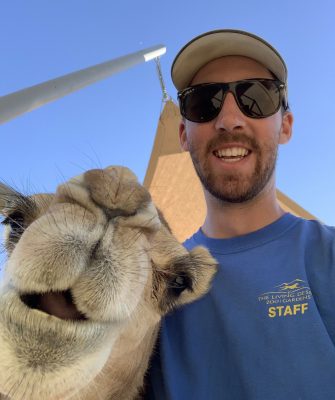 Long legs and big-lipped snout might not be how someone would commonly describe their kids, but it makes sense for University of Wyoming animal science graduate Tanner McClure.
McClure's life is a zoo – literally. He works for The Living Desert, a zoo near Palm Desert, Calif., as an animal care keeper.
McClure, originally a Riverside, Calif., resident, attended junior college in Colorado and then transferred to the University of Wyoming upon advice from his cousin, who had recently graduated from UW.
"He told me to check out Wyoming, so I drove up and decided that's where I wanted to go," said McClure.
Before arriving at UW, McClure spent his summers working as a camp counselor with the zoo's barn staff, primarily working with horses. This led him into animal science. Originally majoring in agriculture education, McClure felt like he needed a change.
"I called the school and spoke with a counselor in the College of Education and he asked if I was interested in wildlife biology, zoology or animal science," said McClure. "In my mind animal science seemed more hands-on, so I chose that."
He soon found himself sitting in professor Donal O'Toole's diseases of food animals, a 4000-level course, with no background in animal science.
"It was really hard because I knew nothing about livestock animals, and I wasn't even in animal science yet," said McClure. "But he was a really good professor. He challenged everyone to think."
McClure stuck with animal veterinary science and added an equine option. He became involved with the horse judging team from the advice of his student adviser, Jenny Ingwerson-Niemann, competing and then serving as an assistant coach.
"He was a pleasure to be around," said Ingwerson-Niemann, the equine specialist at UW. "His hard work ethic, positive attitude, good sense of humor was contagious."
McClure credits his experiences through coursework and horse judging to his job success today.
"Every day I have to watch about 40 animals and any minor thing that happens to them, it's on me to call that out," said McClure. "I got my observation skills through horse judging and the critical thinking from those classes."
McClure never imagined he would be working at a zoo. After graduating in May 2019, he signed a three-month contract to work in Springfield, Penn., helping build a horse-riding camp. While he enjoyed the job, he knew he wanted to be closer to home. McClure returned to California after his contract was up and started applying for jobs in the area he wanted to live.
"The Living Desert was really close to where my mom and grandparents lived, and I used to go there as a kid," said McClure. "I kept applying and applied about every Tuesday for two months until they finally called me."
McClure's job as an animal care keeper is complete and total animal care. The Living Desert is an American Zoological Accredited (AZA) zoo, which requires them to provide the animals with some type of experience or enrichment every day.
"Something has to change, whether that's toys or objects I give them or hide their food or build contraptions for them to get their food," said McClure.
He also administers medications after they have been prescribed by the veterinarian, cleans, maintains the animal's habitats and does training.
"When I first got hired, I was the primary trainer keeper for our four baby camels," said McClure.
He spent an hour with each camel training them and then afternoons building contraptions for them to play with.
"I thought of them like my kids. They were the biggest nuisance that I had because they were always wrecking things and getting into trouble," said McClure. "But I loved them because they were mine, like my little babies."
Now McClure works with seven Bennett's wallabies, five yellow-footed rock-wallabies, two laughing kookaburras, two tawny frogmouths, an olive python, a frilled-neck lizard, bearded dragons, a mountain lion, a jaguar and Mexican grey wolves.
"I love our mountain lion," said McClure. "Her name's Salem, and she's 16 so she's geriatric but she's full of sass, and I get to work with her every day."
Salem was an orphaned cub in Oregon and donated to The Living Desert by the Fish and Wildlife Service. She's been at the zoo since she was a cub.
"I actually got to see her as a young mountain lion as a kid when I went to the zoo," said McClure. "It was really cool to see her from a cub to a geriatric mountain lion and now I work with her."
McClure does emergency recall training with the dangerous animals, like the jaguar and mountain lion. Everything he does with them requires two keepers. If a keeper is going on habitat, in an area with a "code red" animal, the animal will be moved to another area.
"All our dangerous predators know with simple commands to move them on habitat or off habitat," said McClure. "We have a whistle and will give them the biggest reward we can think of."
For example, the mountain lion loves rabbits and with recall training, a blow of the whistle causes her to run back to her holding area and she's rewarded with a rabbit, McClure explained.
He's had to challenge his thinking when it comes to training the dangerous animals like the mountain lion because he can't be in the same space as the animal. There always has to be some type of wall or barrier between them.
"There are some things I would like to try out on horses where I'm not on their back training them but on the floor," said McClure.
McClure says he might be interested in getting back into horse judging or domestic livestock at some point but for now, this is where he wants to be.