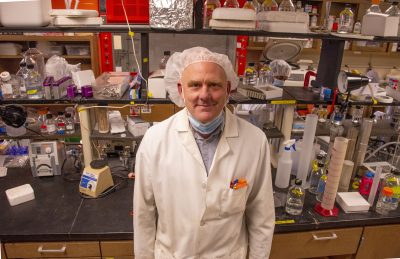 Jason Gigley, a University of Wyoming associate professor of molecular biology, received a Fulbright Scholarship to study how nutritional immunity and disease tolerance can be used to combat Toxoplasma gondii (T. gondii), a dangerous foodborne pathogen that can kill people with immune deficiencies as well as developing fetuses.
T. gondii is a major health concern for people whose immune systems are weakened, as well as for developing fetuses; and as a cause of depression and neurocognitive changes. Infection with this parasite can result in different pathologies that can cause tissue damage in the stomach, retinas and brain.
"My goal as a Fulbright Scholar will be to test how nutritional immunity and disease tolerance work to promote immunity and reduce pathology during infection with Toxoplasma gondii," says Gigley. "To date, there are no fully effective vaccines or therapies that can completely eliminate this infection that is present in at least 30 percent of the world's human population."
For his project, titled "Understanding How Host Available Iron Impacts Nutritional Immunity and Disease Tolerance during Toxoplasma gondii Infection," Gigley will focus on discovering new therapies or vaccine approaches to meet this critical need.
The objectives of the project are:
— To investigate how nutritional immunity impacts T. gondii infection. The movement of available iron from one location to another in the body can limit access of iron to pathogens to control infection called nutritional immunity.
"Our research will investigate how nutritional immunity, a process by which a host prevents a pathogen from getting iron, works in the context of an intracellular parasitic infection called Toxoplasma gondii," Gigley explains. "We can increase or decrease levels of iron in our infection model and see how this affects the infection and immune response."
— To dissect how disease tolerance impacts immunity to T. gondii infection. Disease tolerance counterbalances immune responses by protecting tissues to prevent immune pathology as the immune system functions to eliminate pathogens and diseased tissues.
Gigley says he will investigate how moving iron around in the host affects the level of tissue damage caused by the infection to understand how to help people survive when they are infected with this parasite.
"There is a critical need to find additional and new therapeutic targets to treat this infection," Gigley says. "Our proposed research on nutritional immunity and disease tolerance could lead to development of a cure, which is desperately needed."
He says the research will take place in Portugal because one of his collaborators, Miguel Soares, is a cell biologist and one of the world's leaders in studying nutritional immunity and disease tolerance. Gigley says he and Soares will publish their work as collaborative primary research articles in high-level journals. He adds that they also will present the results of their research at international and national meetings.
"The Fulbright is a huge honor, and I am really shocked that I received this scholarship," Gigley adds. "Receiving this award means a lot to me as a researcher and professor because it will allow me to visit and learn from one of the world's leading experts about a cutting-edge area of research. This award will allow me to bring these new ideas and opportunities back here to the University of Wyoming for my own lab and students that I teach."
Gigley has been a member of UW's faculty since 2012. He received a bachelor's degree in freshwater and marine biology from the University of New Hampshire; his Ph.D. in microbiology and immunology from Dartmouth Medical School; and completed his postdoctoral fellowship work at George Washington University Medical Center in the Department of Microbiology, Immunology and Tropical Medicine.