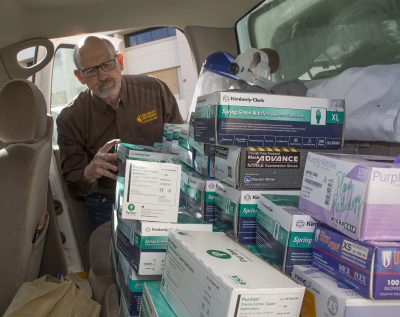 Donated personal protection equipment (PPE) from various departments and offices in the University of Wyoming's College of Agriculture and Natural Resources is being collected and taken to Ivinson Memorial Hospital in Laramie.
John Connett in the Department of Ecosystem Science and Management in the college has been collecting the donations.
He delivered a pickup seat full of supplies Thursday morning, the first of the day and second including Wednesday.
"All of this is from the microbiology program, others in the college of agriculture and from the Albany County Extension office," he said during a Thursday delivery. "And we have more deliveries today besides this one."
As of Thursday morning, wipes, lotion masks, lab coats, face shields and more than 130 boxes of gloves have been donated. There are 200 gloves per box.
The supply pickup location is behind the College of Agriculture and Natural Resources building, and Connett said he will also accept supplies from other colleges and departments on campus. He added he can pick up items within 15 minutes of being contacted. Those wishing to donate can email Connett at  jconnett@uwyo.edu or text or call 307-761-0960.
His efforts are in addition to others on the UW campus in Laramie. Collections will also be made noon to 4 p.m. April 1 at Merica Hall on the campus.
Connett said donated items requested include: sterile and non-sterile gloves; respirator masks; surgical masks; clear face shields; disposable gowns; hand sanitizer; bleach bottles or sprays; bleach wipes; isopropyl alcohol; eye protection and goggles; Powered Air Purifying Respirators – 3M or MaxAir and hoods, filters, batteries, chargers, tubes to go with these units are also needed; shoe covers; biohazard bags; and Sharps disposal containers.