The University of Wyoming Extension Agriculture & Horticulture Initiative Team has a lot planned for 2020!
We are committed to offering research-based educational opportunities statewide to Wyoming's ag producers, small acreage residents, and gardeners.
No matter where you are in the state, UW Extension is a great and free resource to you. Here are a few of the exciting upcoming events happening across the state.
Beef Cattle Artificial Insemination and Reproductive Management Schools – These schools teach Wyoming cattle producers about implementing a successful artificial insemination program. Attendees gain first-person knowledge and become certified technicians. A class was in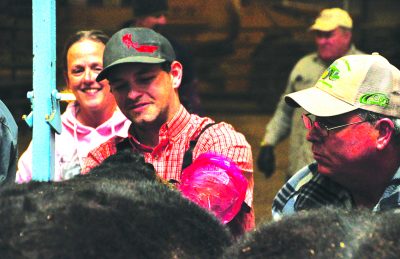 Riverton Jan. 7-9, and dates and locations will be announced for Laramie in April and Greybull in June.
Wyoming/Utah Ag Days – Monday and Tuesday, Jan. 27-28, at the Roundhouse in Evanston. Mary Budd Flitner is the keynote speaker and will discuss her new book, "My Ranch Too: A Wyoming Memoir." Two concurrent sessions with 18 topics are covered including presentations on culling livestock, Hemp 101, mineral supplementation, ranch horse care, and more.
Fremont County Farm and Ranch Days – Wednesday and Thursday, Feb. 5-6, at the Fremont County Fairgrounds in Riverton. Farm and Ranch Days is a two-day educational event geared toward helping farmers and ranchers. Throughout the two days, we feature 30+ educational sessions that are 45 minutes long. Topics vary from ag production-oriented topics to marketing, animal health, crop improvement, and financials. Speakers include UW Extension personnel and industry experts from other agencies, veterinarians, and private businesses. We also feature a trade show both days with 50+ ag vendors. The Fremont County Cattlewomen serve a free meal to the 300-400 event attendees, and we have a keynote speaker each day during lunch hours.
WESTI-Ag Days – A two-day educational program providing resources and information to farmers and ranchers in the Bighorn Basin. The event is Tuesday and Wednesday, Feb. 11-12, at the Worland Community Center. The event features various educational sessions with industry professionals (including a keynote) as well as a trade show and free lunch both days.
Excellence in Agriculture Symposium – This second annual event is Friday, May 6, at the Natrona County Extension Office, 2011 Fairgrounds Rd., in Casper. Offered will be industry updates and information to ag producers in the central and northeastern portions of the state. This event also has a focus on recognizing Wyoming women in agriculture and features a "Heart of Agriculture" award honoring their contributions.
Wyoming Ranch Camp – This is a new event for 2020! The Wyoming Ranch Camp Program is Monday-Friday, June 15-19, at the Broadbent Ranch near Evanston. The event will focus on providing students with knowledge to help them be successful Wyoming ranch managers and cover important topics in-depth such as meat science, animal science, economics, ranch recreation, and ranch management. Another requirement of the class will be for students to develop a business plan utilizing the knowledge they learn from the program.
Beef Production Convention – This event is specifically for beef producers and takes place every other year in Torrington. In 2020, the event is mid-November at the Goshen County Fairgrounds. The event will address current events in the beef industry such as market reports, nutrition, reproduction, and animal health.
For more information on any of these upcoming events, please contact your local UW Extension office.
Chance Marshall is a University of Wyoming Extension educator based in Fremont County and serving western Wyoming. He is also chair of extension's Agriculture & Horticulture Initiative Team. Marshall can be contacted at (307) 682-7281 or at cmarsha1@uwyo.edu.