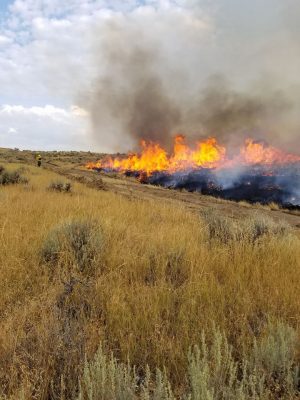 Reviewing measures that can keep you in business in the face of emergencies and disasters is important as you prepare to cycle into another production year.
According to FEMA statistics in 2013, 42 percent of agriculture operations affected by disaster go out of business or change management. Over the next three months, our articles will focus on risk mitigation beyond just financial issues.
The Extension Disaster Education Network, including University of Wyoming Extension, helps citizens prepare for, respond to, recover from, and mitigate the impacts of disasters and emergencies.
Mitigation is the process of reviewing vulnerabilities and then taking measures to reduce the severity of effects on you or your operation.
We have a dearth of possible impacts in Wyoming including disease outbreaks, drought, blizzards, floods, earthquakes, tornadoes, and wildfires. In reality, Wyoming has potential for every possible disaster except hurricanes and tsunamis.
The risk and mitigation process should envelop financial, physical, and operational facets of your business, family, and community when possible.
Mitigation really does equate to survival in rural areas of the West where emergency response resources are few and distant. Remember – if you and neighbors want to help during an emergency response  – communicate with authorities at the same time.
Being prepared
The knowledge and skillset of agriculture producers can dramatically enhance early response, early recovery, and reduced effects in almost any type of emergency. Planning ahead for that 500-year event may make the difference in a legacy operation surviving until the next generation takes over.
The following are some practices you may already do:
Review and develop a plan for the dominant risks in your area.
Visit with your county emergency manager and neighbors on plans.
Have funds set aside or financing flexibility for emergencies.
Save copies of important documents offsite.
Have an updated communication plan with family and neighbors including current phone numbers.
Have at least 14 days of medications and medical supplies.
Have at least 10 days of food and water if living in rural areas.
Have backup sources of heat, power, and communication.
Have alternate pastures set aside for livestock when forage is short.
Have feed supplies set up on high ground near where livestock can be fed from the stack since some incidents limit vehicle movement.
Have heavy equipment and extra fuel ready for winter events.
Conduct an effective vaccination and healthcare plan for family and livestock.
Make plans with neighbors to care for each other's animals if access is blocked.
Establish tactical firebreaks with grazing or cultivation when needed.
Set up a maintenance/operational check schedule for all emergency equipment.
Get CPR and first aid training for family and employees.
Familiarize all family on emergency exits, meeting points, and contact information.
Clearly mark your property entrance with county designated emergency address road signage.
Maintain roads with suitable crowns, surface, and barrow ditches to maximize access.
Keep fire-fighting equipment, snow machines, and boats available depending on risks.
Consider contributing expertise and time to your county's ESF11 (agriculture and natural resource) emergency plan.