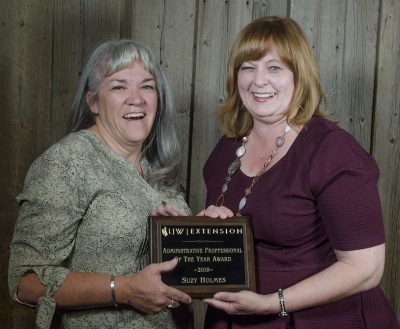 A 38-year employee of the University of Wyoming Extension in Uinta County has received the organization's Administrative Professional of the Year Award.
Suzy Holmes was presented the honor Thursday, Sept. 12, in Lander during the annual UW Extension training conference.
"Her institutional knowledge, her willingness to tackle difficult tasks and her commitment to clientele is unmatched," her presentation announcement stated. "When the county faced being without a 4-H educator for over 18 months, this steadfast, resilient admin stepped up to lend her vast experience and knowledge to the continuation of the 4-H program in a professional and competent manner. The program continues today in large part due to her extraordinary efforts."
Holmes was also a recipient of the Frances Freese Award, also recognizing administrative support excellence, in 1995.