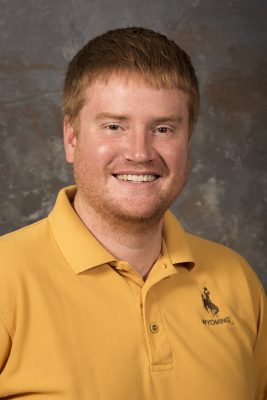 Associate professor Brant Schumaker in the Department of Veterinary Sciences is recipient of the University of Wyoming Mortar Board's Outstanding Advisor Award.
UW President Laurie Nichols received the Outstanding Service and Dedication Award.
Schumaker is a veterinary epidemiologist at the Wyoming State Veterinary Laboratory.
The Outstanding Advisor Award recognizes a member of the university community who has performed outstanding academic, career and personal advising, according to Mortar Board. Students are asked to nominate individuals who skillfully, and consistently, provide academic advice, as well as career guidance, and who establish personal relationships with their students.
"Dr. Schumaker has always gone out of his way to provide advising for students. Whether that is for his class, professional school, career advice or simply about life in general, he will find the time," said nominator Meagan Soehn, a microbiology major from Casper. "He is both kind and understanding, while also being realistic with students about any questions or concerns they come to him with. I know that I speak for myself and other students when I say that he has been an asset for our time here at the University of Wyoming."
Mortar Board is a national honor society that recognizes college seniors for outstanding achievement in scholarship, leadership and service.