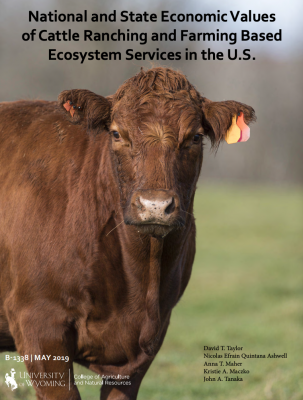 A new publication from the University of Wyoming Extension provides estimates of the ecosystem service values of forage production, general ecosystem services such as open space, and wildlife-related recreation from pasture and rangeland used for beef cattle production in the U.S.
An estimate for each state and the total values for the U.S. are part of National and State Economic Values of Cattle Ranching and Farming Based Ecosystem Services in the U.S., B-1338.
"The work presented is intended to document the value of select ecosystem services associated with the conservation of land use for beef cattle production," said Tex Taylor, a community development specialist in the Department of Agricultural and Applied Economics in the College of Agriculture and Natural Resources. "It also provides quantitative information for use in public policy and planning, such as assessments of potential land use change."
This project was funded by the National Cattlemen's Beef Association as a contractor for the Beef Checkoff Program. The publication is available in pdf, HTML and ePub formats by going to bit.ly/ranching-economic-value.