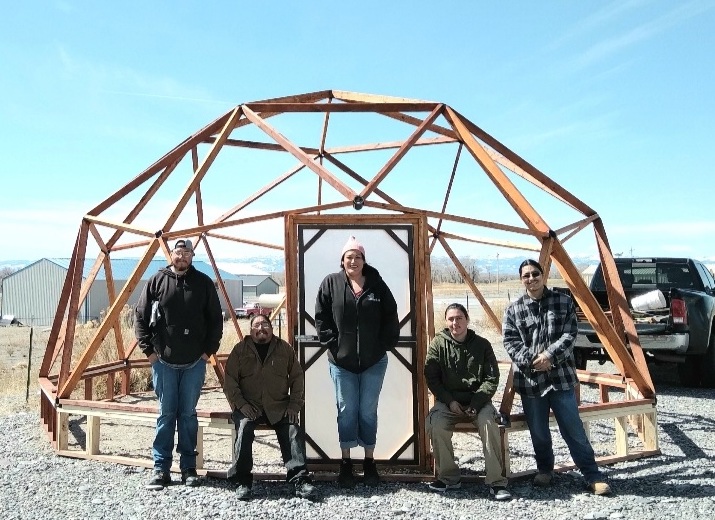 In less than two years, more than seven geodesic dome greenhouses have popped up on the Wind River Indian Reservation.
These domes, built by the Wind River community, for the Wind River community, provide space for growing plants and healing people.
At the heart of the project is Darrah Perez, co-founder and former executive director of Wind River Grow Our Own 307.
"It all began when I was on the board for the Growing Resilience project that was here on the Wind River Reservation," explains Perez. The project, which brought together tribal health organizations, community leaders, and other partners, focused on supporting health and food sovereignty through home gardens.
When the Covid-19 pandemic hit, Perez knew she had to do something to help her community. Building on her experience with Growing Resilience, she decided to focus on home gardening. She and a small group of friends began fundraising to supply community members with gardening tools, supplies, and education.
"We learned to utilize Zoom and figured out to connect even if we couldn't see each other face to face. It started with weekly events and planting things," she recalls. "We took it a step further and started including our traditional knowledge. A lot of it was to keep people's minds preoccupied, not focusing on Covid."
Grow our own
In 2020, these efforts blossomed into Wind River Grow Our Own 307, a nonprofit that provided gardening supplies and educational programs to communities on and near the Wind River Indian Reservation.
"I found my passion and was able to include my passion for writing with taking care of plants and caring for community," Perez says. "I wanted to help everybody because I saw we were losing many people to Covid. It was a big tribute for me to be able to do that."
Figuring out how to operate a successful nonprofit was quite an adventure, she reflects. It was also an opportunity to learn about traditional practices, like growing, harvesting, and braiding sweetgrass.
"Once you actually start doing and getting out there into the wild, it's like a calling to your spirit to something you always wanted and craved, something you keep going for," she says. It's an experience she strives to share with others.
Grow Our Own 307 supported food sovereignty in the Wind River community by connecting people to gardening, cultivating medicinal and traditional plants, and sharing knowledge of medicinal food and plant uses.
"With the many food sovereignty projects, such as Wind River Food Sovereignty Project and the Shoshone Restoring Ancestral Food group on the reservation, I am proud of the work Wind River Grow Our Own 307 did during the difficult time of Covid, when everyone was unsure about the food and mental health status created by the pandemic," says Perez.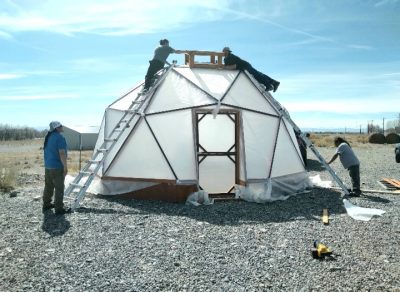 The organization provided seeds, soil, and garden boxes to community members as well as planting trees and medicinal plants. It provided a network for people to support each other and learn together.
It also supported the construction of geodesic domes.
Why geodomes?
It's not just for the looks (or the fascinating construction process). Geodesic domes are well-suited to Wyoming's fickle climate. They're sturdy and can weather snow, hail, and wind, perfect for sheltering plants and extending the growing season.
"If you're a gardener—and even if you're not—it's very easy to grow in them," says Jeff Edwards, UW Extension's pesticide safety education program coordinator. "Geodomes allow the growing season to go much longer. Tomatoes, peppers, and cucumbers grow really well in geodomes, but you can grow pretty much anything—carrots, sweet corn, cabbage, broccoli, beans, strawberries, raspberries, salad greens."
Just don't overplant, he cautions. Also, keep in mind that geodome gardeners are not exempt from weeding, watering, and general upkeep.
All the parts and pieces
When he's not busy teaching Wyoming residents how to responsibly do away with pests, Edwards can often be found traveling the state to construct geodomes. He met Perez at a geodome build in Sundance, Wyoming.
"Jeff came with a kit, we put it together—it was amazing to see it go up, from base to door to top," Perez recalls. "Seeing all that transpire, I had a vision of seeing more of those domes on the reservation, more people benefiting from them. I wanted to learn more."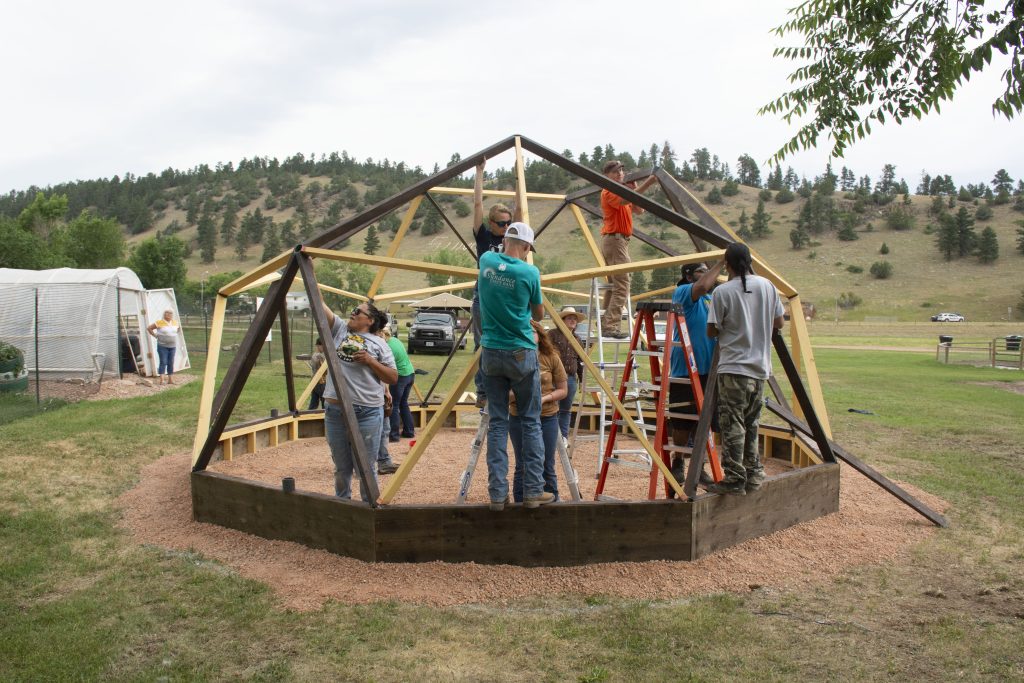 Working with the Longmont Sister Cities Association in Colorado, she secured a $30,000 Dream Offering grant to build six geodomes on the Wind River Indian Reservation in 2021.
The grant included stipends to compensate community members for their work. "A lot of our community deals with poverty issues. This may have helped in ways they're forever grateful for," she reflects.
But the project's impact extended beyond work stipends. "It helped give them confidence that they can build things. A lot of people think they can't do that and giving that confidence was a booster for the community," says Perez.
In 2021, she traveled to Edwards' workshop for an immersive multi-day tutorial on what materials to order, how to prepare the parts and pieces of a geodome kit, and how to complete the final construction and "skinning" (securing the dome's woven polyethylene plastic "skin" onto the frame).
"We spent three days building the parts and pieces for three geodomes," says Edwards. "Then they took the kits back to the reservation and we arranged for me to come assist them in building their first one."
The first installation took place at the Doya Natsu Healing Center (formerly known as the Eastern Shoshone Recovery Center) in Fort Washakie. The center now uses the dome to grow food and medicinal plants like sweetgrass, sage, and mint.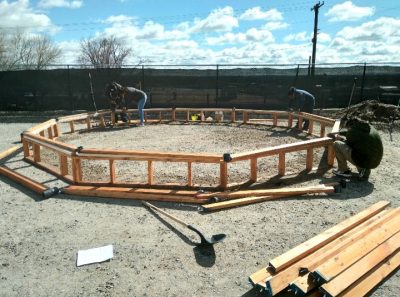 A second geodome was installed at the St. Stephens Indian School on the Wind River Indian Reservation; another was constructed at the Early Intervention Program in Fort Washakie.
A forever learning process
To successfully build a geodome, a person needs not only the proper materials and tools, but also a healthy dose of patience, a team of helpers (ideally six, minimum)—and the confidence to take the plunge and start cutting plastic.
"One thing I realized is that it takes a lot of time and attention. You have to have a lot of patience," Perez notes. "The very first dome, we had about nine holes in the top, having punched through it with the screw bit. By the time we built the last one, though, we were so perfect that there was no hole." 
Edwards says it's a three-time rule. "If somebody is really wanting to do this, it takes the repetition of about three structures in order for them to get comfortable." 
Perez passed the three-time mark and kept going.
So did Edwards, though his journey began a few years earlier. His first dome build involved a pre-made kit and a set of instructions that had everyone scratching their heads in consternation.
By the time he met Perez, Edwards was crafting his own kits and leading geodome builds across the state. More recently, he created "a construction manual for everybody," a set of instructions for building a 22-foot geodesic dome with about 355 square feet of farmable space.
Dome construction requires the use of various triangle sizes. Frequency refers to the repetition of the pattern of triangles used to approximate a spherical surface; the simplest pattern is 2-frequency (2-V).
Edwards' manual explains how to construct a 10-sided 2-V dome. The components can be prepped by one person for assembly in about 30 hours; final on-site assembly requires about 8 hours and at least 4 volunteers.
The Wind River geodomes built under Perez' supervision were constructed using a similar model. "I don't mind showing people, I don't mind giving them the skills of how to do it. Once you learn how to build a geodome and work with wood, it's a good thing," she says.
Through Wind River Grow Our Own 307 programming, Perez found ways to uplift her community through building, gardening, and learning.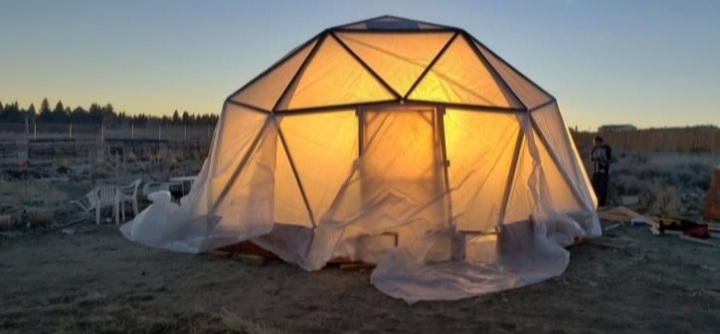 "I have big plans and big dreams," she says. "I would like to build more domes and teach more interested individuals alongside Jeff Edwards for a larger audience upon the reservation and throughout the state of Wyoming outside of my previous work with Wind River Grow Our Own 307."
Gardening is what Perez calls a forever learning process.
So is healing.
To learn more about her previous work with Wind River Grow Our Own 307, contact Darrah Perez at darrahperez226@gmail.com. To obtain a copy of the geodome manual, contact Edwards at jedward4@uwyo.edu or (307) 837-2956.