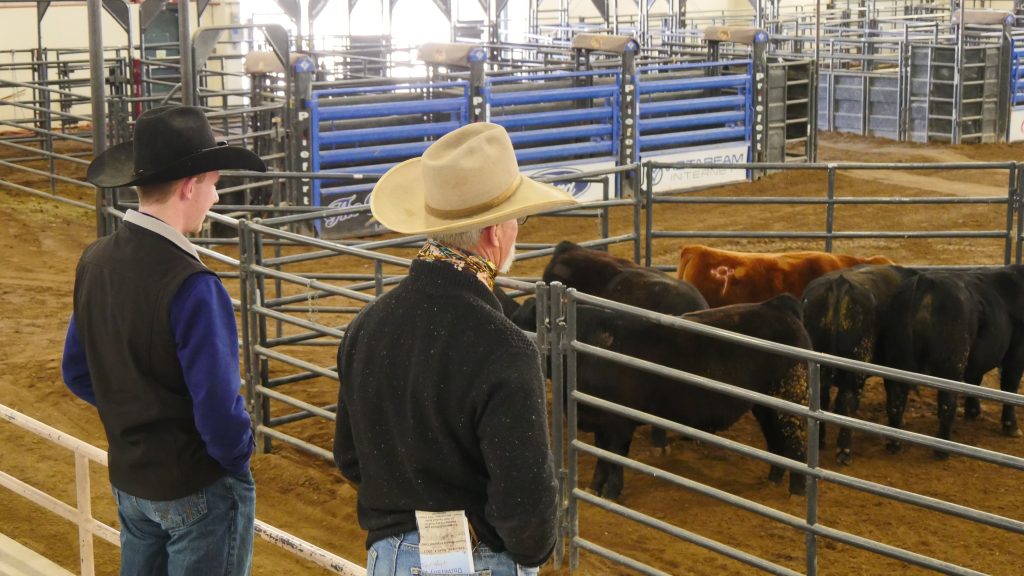 As a high-altitude state, Wyoming runs into high-altitude problems. For many cattle ranchers, that means dealing with pulmonary hypertension, also known as high-altitude or brisket disease.
The condition most commonly affects cattle grazing above 5,000 feet. Multiple factors, including altitude, breed, body condition, and genetics contribute to an animal's likelihood of contracting the disease and developing heart failure as a result.
Located at 7,220 feet above sea level, the University of Wyoming Laramie Research and Extension Center (LREC) is an ideal location for studying the disease.
Launching the bull test and sale
Recognizing the need for research on the topic, faculty in UW's Department of Animal Science partnered with colleagues at LREC to launch Wyoming's first High Altitude Bull Test and Sale.
"It's a true collaborative effort between Dr. Scott Lake, Dr. Hannah Cunningham-Hollinger, Ben Hollinger, and myself," says Shelby Rosasco, UW Extension beef specialist and assistant professor of animal science. "We all four thought about it for a long time and decided to go for it."
The program, now in its second year, provides data on individual bull performance and offers a venue for producers to market bulls that have undergone pulmonary arterial pressure (PAP) testing.
Rosasco and her colleagues developed the program in response to a need expressed by Wyoming cattle producers facing altitude-related mortalities. But the test also provides a valuable opportunity for students to gain practical experience in the beef industry.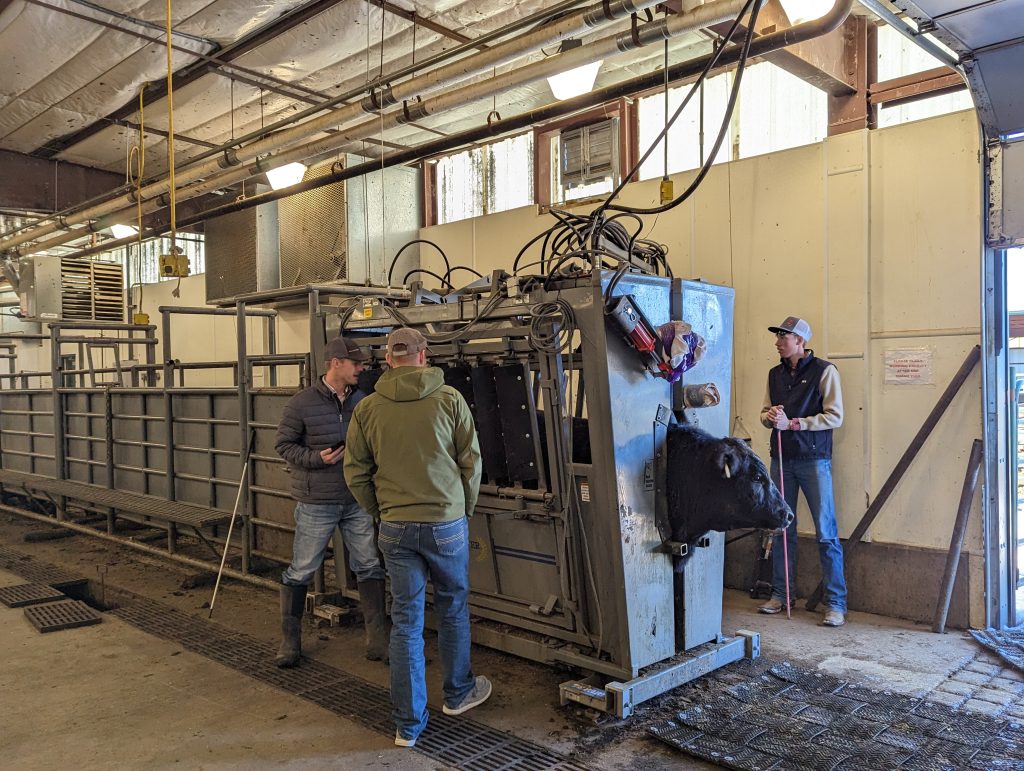 More specifically, students learn firsthand about bull development, selection, breeding soundness exams, PAP testing, feed efficiency, carcass ultrasounds, data management, and effective marketing.
"We're integrating teaching, research, and extension to do as much as we can to help students and producers in our state," says Rosasco.
Not a normal class
Last year, a total of 41 bulls were assessed over a period of several months, starting in January 2023. Eight undergraduate and three graduate students were responsible for completing daily health checks, weighing the bulls, and performing data collection under the supervision of UW faculty and staff.
The students also developed marketing materials promoting the sale, created a sale catalog, and helped plan and execute a public field day sharing test results.
"I would recommend this class to anyone looking to improve marketing skills, breeding cattle, and improving their own breeding stock," says Blake Fabrizius, an animal science major who participated in the 2023 course and consigned several bulls to the test. 
This year, Rosasco and her colleagues have expanded the program to include courses in both the fall and spring semesters. Students enrolled in the fall class are currently building knowledge and skills related to bull growth, nutrition, reproduction, and genetics. In the spring, they'll pivot to focus on bull management, data collection, and marketing.
"It's not a normal class," says Chase Markel, a Ph.D. student who helped design and launch the inaugural bull test and sale. "You can get your baseline classes at any institution in the country, but the lessons in this class are priceless. You won't get it anywhere else."
Originally from Wheatland, Wyoming, Markel grew up raising and marketing bulls. He applied both practical experience and academic knowledge to help develop curriculum, recruit students, and deliver lectures. "There's not a guidebook on how to run a class like this—that made it challenging, but also exciting," he comments.
Perks for producers
In addition to facilitating student learning, the class is designed to serve the needs of regional cattle ranchers. Producers are responsible for covering feed and testing costs; in return, they receive regular updates on their bulls' performance and an opportunity to market their bulls in a live sale.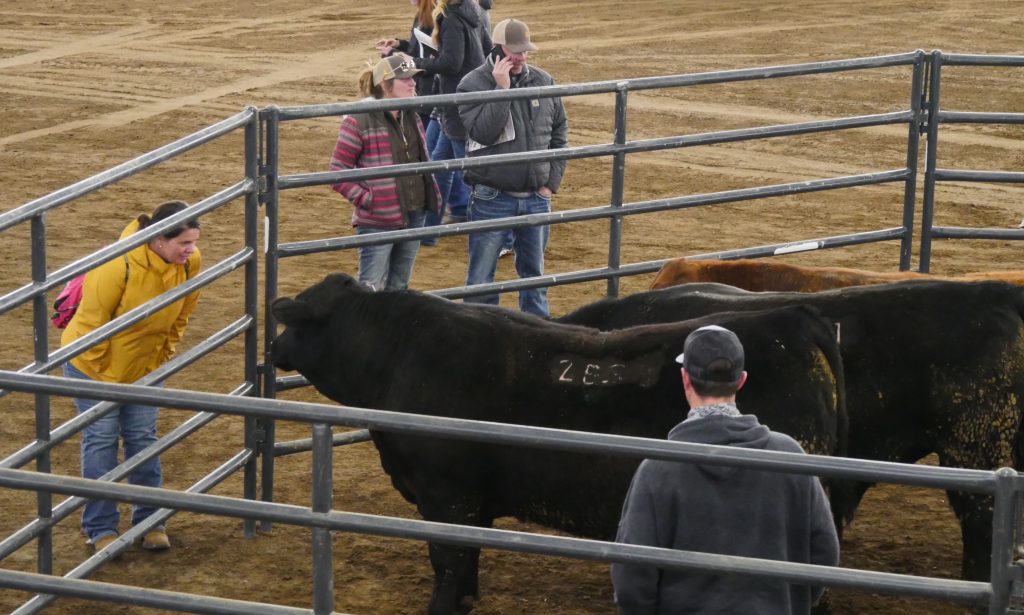 "It's useful information for making my bulls better," says Jared Boardman, a rancher who participated in the inaugural bull test. "I definitely felt it was valuable even if some of the information was bad news. Now I have ideas about what to work on."
Producers and consignors participating in the 2023–2024 test and sale will have access to PAP test and breeding soundness exam results, ultrasound ribeye area and fat thickness measurements, and data on individual feed intake. They will also receive feed efficiency test results, including feed to gain, residual feed intake (RFI), and average daily gain.
This year, bulls will undergo a 45-day screening period before the test to assess their risk for pulmonary hypertension. Rosasco and her colleagues have also increased the length of the test to accommodate a 70-day feed efficiency assessment that meets Beef Improvement Federation guidelines.
The 2023–2024 test and sale include divisions for both yearlings and two-year-old bulls. "We are looking forward to building on the success of last year's test through the addition of a feed efficiency test, additional age categories, and transitioning to a live sale," Rosasco comments.
Learning opportunities for the public
For Boardman, a graduate of the UW College of Ag, it's not just about data collection and improving his herd's genetics. He also welcomes the opportunity to support a new generation of learners. "I was a high school ag teacher, so I like the educational part too," he says. "It's a way to support UW and give back."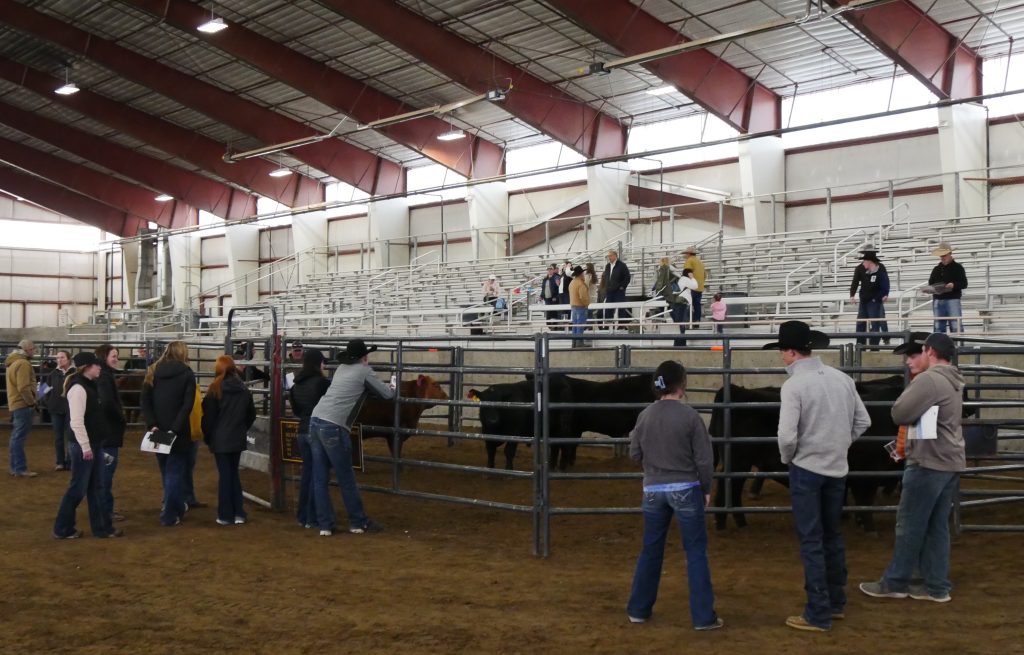 The educational component of the High Altitude Bull Test and Sale isn't limited to UW students. The program culminates in an annual field day at LREC followed by the bull sale. Members of the public are encouraged to attend the free event, even if they're not planning to participate in the sale.
"The program is for the stakeholders of Wyoming in general, not just bull consignors," says Markel. "Everyone is encouraged to get involved and come to the field day."
The 2024 field day, scheduled for Saturday, March 9, will offer educational programming, presentation of test results, and a free meal prepared by the UW Food Science Club.
To view the consignors' handbook and register for the 2023–2024 bull test and sale, visit https://bit.ly/UWBull_Test_Info_2023. Registration closes on Friday, October 20, and bulls must be delivered to LREC by November 1. For more information, contact Rosasco at srosasco@uwyo.edu or (307)766-2329.