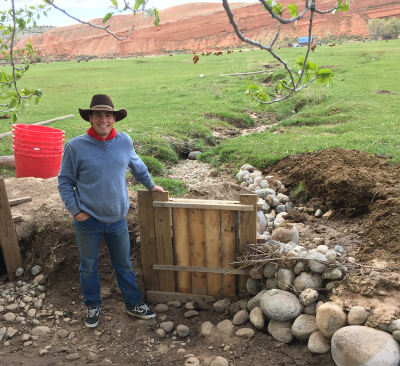 Like the rugged, wind-scoured land they call home, Wyoming producers endure—in the face of market fluctuations, extreme weather events, noxious and invasive plants, skyrocketing fuel prices, and countless other challenges.
"It is hard to learn and comprehend all that goes into a ranching or farming operation unless you see it firsthand and work with people who have made it their lifestyle and depend on it for their livelihood," comments one rancher.
Agriculture is tough, even for those born into it. For those who are interested in getting started but lack experience and capital, it may seem impossible.
"For the better part of my career I've listened to members of the industry debate the challenges of encouraging the next generation to become involved, committed to agriculture and its future," says John Hewlett, UW Extension farm and ranch management specialist and co-director of the GrowinG Internship Program.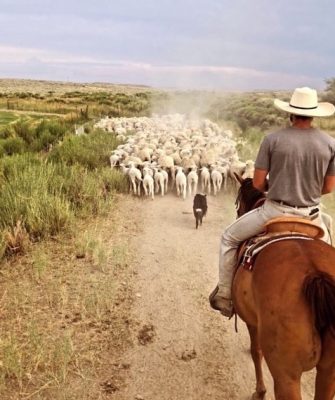 Barriers to entry abound, opportunities to gain practical experience are limited, and the stakes are high.
In response to these issues, the University of Wyoming College of Agriculture, Life Sciences and Natural Resources, UW Extension, and partners launched the GrowinG Internship Program for beginning farmers and ranchers. The program pairs those eager to get started in ag with seasoned producers across the state to provide immersive summer internships.
The goal is to help beginning ranchers and farmers obtain the hands-on experience and skills they need to successfully manage their own operations.
The program is funded by the USDA Beginning Farmer and Rancher Development Program, which supports curriculum creation, informational materials, and professional development for new farmers and ranchers.
Eligibility and requirements
Prospective interns must be 18 years or older and identify as ready to begin farming or ranching and/or have less than 10 years of agricultural ownership. Veterans and members of other underserved groups are encouraged to apply.
Interns who are also degree-seeking students may pursue academic credit for their participation. Academic credit must be arranged in advance between the student and an academic advisor at the granting educational institution.
Program hosts provide safe, educational internship experiences as well as housing and meals. The GrowinG Internship Program awards each intern a $5,000 stipend as compensation for their work.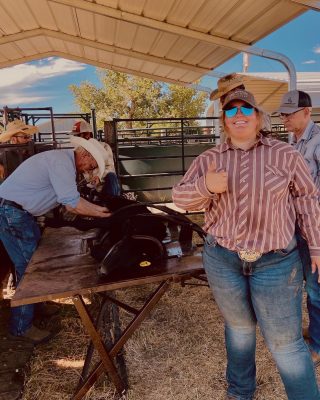 In addition to participating in daily activities on the host ranch or farm, interns are required to attend at least one educational event, such as the Wyoming Stock Growers summer meeting or a UW Extension workshop.
What to expect
In summer 2022, producers in counties across the state welcomed the first cohort of GrowinG interns. Each of the seven interns lived, worked, and learned on a cow/calf or sheep operation for three months.
Interns documented their learning via weekly work summaries posted on the GrowinG site. Activities included working with cattle, horses, and dogs; irrigation; equipment use and maintenance; fencing; tagging and branding; and more.
"Only a fraction of learning—any kind of learning—happens in the classroom," says Benjamin Rashford, co-director of the internship program and head of the UW Department of Agricultural and Applied Economics.
Whether an intern is a degree-seeking student or not, it's this kind of experiential learning and hands-on experience that enable a person to go from understanding the concept to applying it, he explains.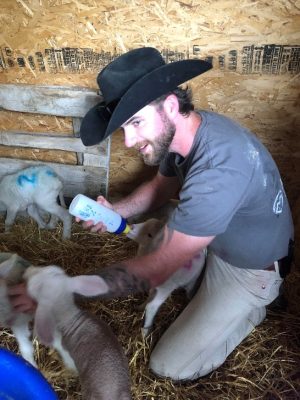 By design, each GrowinG internship is unique, shaped by the capabilities and needs of individual hosts and interns. Every effort is made to ensure that hosts and interns are paired according to interests and areas of expertise—though all parties should be open to learning.
Upon meeting his host for the first time, U.S. Army Ranger and University of Arkansas student Elijah Richardson thought, "This is someone I'll remember." He was right.
"The biggest thing about it was his willingness to teach," Richardson says of his mentor. From caring for bum lambs and moving sheep on horseback to welding, vehicle repair, and aviation, "I learned more in three months than I did in three years," he reflects.
Those three months on a sheep ranch also changed the trajectory of Richardson's plans for his own operation.
"With everything I have learned, I feel equipped to be able to start a small sheep operation and help my family and friends incorporate sheep into their farms," he wrote in a final work summary.
Especially coming from an intern who'd never worked with sheep before, the statement is a testament to the quality of teaching and learning that took place on ranches across Wyoming this summer.
Why host a beginner?
Both hosts and interns reported overwhelmingly positive outcomes from the 2022 program. "It was a useful and educational program that I think benefitted both us and our intern," shares one 2022 host.
Most importantly, the program is an opportunity to invest in the next generation of farmers and ranchers, says Rashford. In Wyoming, producers are community leaders, legislators, school board members, county commissioners—you name it—as well as business owners and operators.
The GrowinG Internship Program offers today's leaders an opportunity to train the next wave of beginning farmers and ranchers.
Program coordinator Kendra Faucett adds that in some cases, students may be able to share new insights with their hosts as well.
"Especially for students active in the classroom, they may have new findings, new awareness that they can share with their hosts," she says. "I think there are learning opportunities both directions so long as those opportunities are accepted with an open mind. We expect interns to do that, and I think the hosts have done so as well."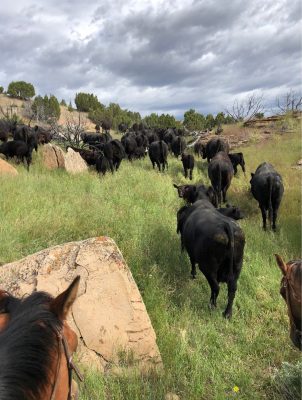 Some hosts may observe "lightbulb" moments, as when a student suddenly grasps a concept previously encountered only in the pages of a textbook—but most meaningful impacts have longer time horizons, Hewlett notes.
"That could extend to helping the intern become more aware of how the hands-on work of an agricultural operation leads to the items shoppers select in the grocery aisle, how the values of agricultural families lead to the grit needed to get through downturns in the markets, or how the careful attention provided to each and every newborn leads to better outcomes at year's end," he explains.
Not all interns will end up starting their own operations—and that's okay. A better understanding of the ag industry, grounded in firsthand experience, is valuable in its own right.
How to apply
The GrowinG team is currently accepting intern and host applications for 2023. Host applications can be found at https://bit.ly/growing-host-app and intern applications are available at https://bit.ly/growing-intern-app.
Applicants are strongly encouraged to apply by February 3, 2023, to allow for optimal host/intern matches, though applications will continue to be accepted on a rolling basis. Efforts will be made to accommodate scheduling conflicts and season-specific needs on host operations.
Contact Kendra Faucett at coordinator@growing-wy.org or (307) 760-6247 with questions.
To learn more about the GrowinG program and explore additional resources for beginning farmers and ranchers, please visit GrowinG-WY.org.