Interested in learning how to build a geodesic dome greenhouse? Join University of Wyoming Extension educator Jeff Edwards for dome-building events at the Boys and Girls Club of Douglas and Wyoming State Fairgrounds July 10–14.
The geodome workshops are free and open to the public. Participants will learn how to build 22-foot geodome frames on site as well as how to skin the structures.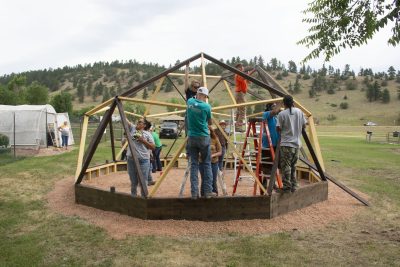 "If your garden season has been delayed or impacted by Wyoming weather and you're interested in finding an alternative, come help us put up a dome in Douglas," says Edwards. "If you show up, we will put you to work."
On Monday, July 10, construction will begin at 8 a.m. at the Boys and Girls Club of Douglas, located at 802 Riverbend Drive. Meals are not provided, but lunch breaks are built into the schedule, with frame construction in the morning and skinning in the afternoon.
On Tuesday, July 11, through Friday, July 14, Edwards will lead the construction of three domes at the Wyoming State Fairgrounds, located at 400 West Center St. The trio of domes will be connected with walkways, a design Edwards developed to efficiently accommodate greater space needs. Volunteers will meet at 7:30 a.m. on the western side of the maintenance building each morning.
For those looking to complement hands-on experience with written instructions, copies of UW Extension's new geodome manual will be available for purchase at the Douglas events. The manual, which costs $20, details how to construct a 10-sided 22-foot geodesic dome with approximately 355 square feet of farmable space.
For more information, or to request a copy of the manual, contact Edwards at jedward4@uwyo.edu or (307) 837-2956. Requests for manuals ($20 plus $10 for postage) can also be mailed to the James C. Hageman Sustainable Agriculture Research and Extension Center at 2753 State Highway 157, Lingle, WY 82223.