Native freshwater mussels are key to aquatic ecosystems, as these organisms improve water quality by filtering large water volumes as well as provide nutrients and substrate for other aquatic species.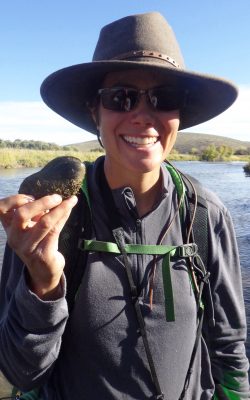 However, these mussels have experienced dramatic declines in western North America, including two species native to Wyoming and Utah. Lusha Tronstad, lead invertebrate zoologist with the Wyoming Natural Diversity Database (WYNDD) at the University of Wyoming, was part of a research effort that took place in Wyoming and Utah during 2019.
The research used modern genetic techniques to survey for animals that are difficult to study and about which little is known. Additionally, researchers worked across state boundaries to get a more complete view of the Bear River Basin watershed that is split among Utah, Idaho, and Wyoming's Lincoln and Uinta counties.
"Mussels live in the bottom of lakes and streams and often bury themselves in sediment, making them invisible. Such behavior makes them exceptionally difficult to study," Tronstad says. "Luckily, they filter a lot of water, which makes them ideal candidates for environmental DNA (eDNA) studies because they slough a lot of cells and DNA into the water. We collected water, filtered it and sequenced the DNA on the filter for the species of interest."
Tronstad was co-second author of a paper titled "Distribution of the Native Freshwater Mussels Anodonta nuttalliana and Margaritifera falcata in Utah and Western Wyoming Using Environmental DNA" that was recently published in Western North American Naturalist, a peer-reviewed journal focusing on biodiversity and conservation of western North America.
Madison Crawford, who received her bachelor's and master's degrees in botany at UW, served as a field technician for Tronstad during 2019, when the research took place. Crawford collected and filtered water samples with Tronstad, who analyzed the data. Crawford, of Newcastle, is now a botanist with the U.S. Forest Service in Dillon, Mont.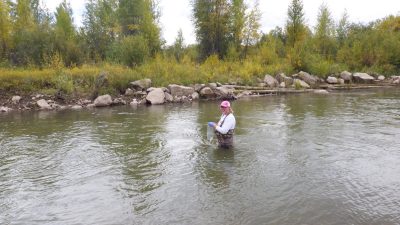 Besides WYNDD, researchers from Utah State University's Molecular Ecology Laboratory, the Department of Wildland Resources, and the Ecology Center contributed to the paper. Torrey Rodgers, a research scientist at Utah State University, was co-second author of the paper. Rodgers developed a method to analyze eDNA samples for the California floater (Anodonta nuttalliana) and western pearlshell (Margaritifera falcata) mussels together.
Mussels are most diverse in North America, with most species located in the southeastern U.S. Currently, there are seven native species of mussels in Wyoming. Mussels are declining throughout the world, and Tronstad says WYNDD is working with the Wyoming Game and Fish Department to understand the status and distribution of mussels in Wyoming.
"Mussels clean our water. They work quietly in the bottoms of our streams and lakes filtering water, removing particles and eating them," Tronstad says. "Filtering water cleans our rivers, streams, lakes and reservoirs, making them higher quality for us to enjoy. Some mussels are able to filter bacteria out of the water, which are extremely small particles."
The eDNA surveys took place at locations with past records for these mussels to determine whether the animals were still present at historic locations. The group also surveyed some additional sites lacking historical records but with similar habitat, or adjacent to, locations with historical records, according to the paper.
Tronstad says she worked with colleagues in Utah to gain a better understanding of the mussel distribution in the overall watershed. Knowing where the mussels are located on the other side of the state line — in the Bear, Bonneville, Sevier and Snake River basins — provides a lot more information about the status and distribution of the species, she adds.
Putting Wyoming's mussel data together with Utah also painted a different picture compared to only knowing information from one state, Tronstad says. For example, California floater are known in Utah and Wyoming in larger, downstream areas of the Bear River. However, western pearlshell are primarily found in Wyoming.
"The most surprising finding to me was that western pearlshell are not common in Utah. We have found these mussels in three river basins in Wyoming, and they have been found at several sites and, sometimes, in abundance," she says. "Based on the data from Wyoming, I had assumed that western pearlshell were abundant in Utah, which was not the case."
The research also is important because the public hears so much about the invasive mussels — the quagga and zebra — and all of the destruction such organisms can do.
"I think it is critical to point out that we have native mussels in Wyoming that are vital to our streams and lakes," Tronstad says. "Native mussels do not cause damage but, instead, are critical to maintain our clean water and aquatic ecosystems in Wyoming."
Determining the contemporary distributions of native freshwater mussels as a baseline for future monitoring and management is critical because of the animals' importance to aquatic ecosystems and the state of their decline in western North America, according to the paper.
Tronstad stresses that WYNDD only supplies the research data and does not have any role in management decisions.
The Utah Division of Wildlife Resources and the Wyoming Game and Fish Department funded the research.
About the Wyoming Natural Diversity Database
WYNDD offers the most complete source of data for species and vegetation communities of management concern in Wyoming. Its mission is to: identify and rank species that are priorities for management in Wyoming; amass existing data and develop new data for species needing management efforts, and for Wyoming vegetation types; and distribute these data upon request, under the philosophy that the best decisions regarding natural resources will be made only when everyone has access to complete and current scientific data.
This story was originally published on UW News.