The University of Wyoming has been gifted a large collection of animal mounts to be used for display and research purposes within UW's Museum of Vertebrates.
A gift of Robert V. "Bob" and Michelle Underwood, the collection includes mounts of animals such as a grizzly bear, black bear, mountain lion, moose and pheasants. The gift also includes a large variety of exotic nonnative animals such as rock hyrax, springhare, muskox, hartebeest, stone sheep, tahr, caribou, fallow deer, capybara, Cape buffalo, eland and zebra, among others.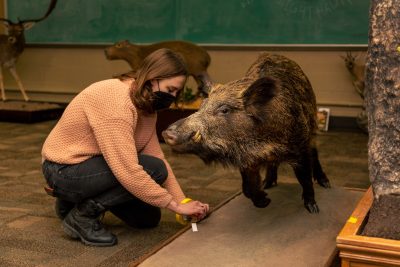 The Underwoods are making the gift in honor of Michelle's family, the Rileys, which has deep Wyoming ties that date back to 1856.
"We are thrilled to gift this collection to the University of Wyoming," Bob Underwood says. "We wanted people to use, appreciate and learn from the collection for years to come. Having it at the University of Wyoming is the absolute perfect fit. Michelle's family has been in the state since the 1800s, and our entire family has a deep appreciation for the state and the university."
The collection will broaden the opportunities for research for UW students and faculty and will allow researchers easier access to species from around the globe without additional travel or cost. It also will add to the UW Museum of Vertebrates' growing collection of nearly 12,000 specimens of mammals, birds, reptiles, amphibians and fish.
The mission of the UW Museum of Vertebrates is to document and understand regional and global biodiversity through acquisition and investigation of collections to advance academic knowledge and the public's appreciation of the natural world.
Specimens housed in the museum are used by numerous researchers to help understand the mysteries of the natural world. A majority of the museum's collection are specimens from the Great Plains and Rocky Mountain regions.
"In addition to institutions of scientific research, natural history collections also can be fantastic sources of inspiration and understanding," says Elizabeth Wommack, curator and collections manager for the UW Museum of Vertebrates. "A collection such as that donated by the Underwoods will give students and researchers opportunities to develop new programs of outreach and education, as well as unique forms of research."
Researchers can use taxidermy mounts to study the size, shape, coloring and texture of an animal. At the UW Museum of Vertebrates, information on a specimen's origin is collected, including the date and location of the specimen when it was collected.
Additionally, these types of specimens can serve as historical records for how a certain species may have looked at a certain place and time. For example, a mount of the extinct carnivorous marsupial thylacine, or Tasmanian wolf, is part of a traveling "Extreme Mammals" exhibit by the American Museum of Natural History, and a mount of a bumblebee bat, the smallest mammal in the world, is housed at the World Museum of Natural History in California.
Taxidermy mounts also can benefit communities with a unique educational opportunity. There are a variety of ways that animals can be mounted that will show different aspects of an animal. They can show the typical movements, diet and environment that a particular animal lives in, and they also allow for an audience to get an up-close experience with an animal that it otherwise may never see.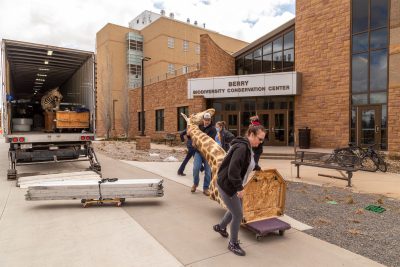 "Museums are amazing resources that work to understand the diversity of life present across space and time," Wommack says. "By collaborating with many different collectors and scientists, collections are able to better preserve an accurate record of the amazing diversity of animals present today."
The UW Museum of Vertebrates is a research-based museum available to faculty, researchers and students for research opportunities and the public for educational opportunities. More information on objects in the museum's collections can be found online through the Arctos digital database and the UW Museum of Vertebrates webpage.
The UW Museum of Vertebrates also is a member of the UW Natural Science Collections Partnership and collaborates closely with other collections to provide outreach, research and educational opportunities for Wyoming citizens and visitors to the state.
The Rileys have been tied to Wyoming since 1856, when Michelle's great grandfather, T.K. Riley, crossed the state as a 12-year-old and, due to an early October snow, needed to be rescued. The Riley family returned to the state in the 1890s and has been ranching and farming in the state since. Family members were educators in Burlington for many years, and Michelle's mother served in many state 4-H, educational and home economics organizations.
Multiple members of Michelle's family are UW alumni, and her parents, Ferrel and Cleo, met at UW during their undergraduate studies. Michelle and Cleo even lived in the Bim Kendall House, currently home to the UW Haub School of Environment and Natural Resources, for a semester in the mid-'50s while her mom was in the home economics program. Michelle's brother, Mike, and his wife, Paula, also are UW alumni and have stayed in Wyoming — they live on the same land in Burlington that T.K. Riley did all those years ago.
This story was originally published on UW News.