The University of Wyoming Extension welcomes Micah Most as the new agriculture and natural resources extension educator for Johnson County.
"We are very excited to have Micah join our team in the Johnson County office," says Amanda Marney, associate director of the UW Extension.
Most joined the extension on June 30, 2022. "I am looking forward to meeting the community and engaging with the ranchers and farmers in the area. Johnson County already feels a lot like home for me," he says.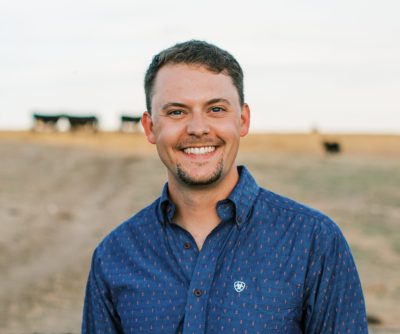 He completed his master's degree in stress physiology from the University of Nebraska – Lincoln in May 2022.
As a graduate student, Most developed content for livestock producers through the Nebraska Extension, including peer-reviewed publications, seminars, field days, and on-farm visits. He also recently served as the producer and host for the Nebraska Extension's "FarmBits" podcast.
"Micah's fresh perspective and innovative communication skills, combined with his experience in livestock production and crop production, will allow him to serve the Johnson County community well," Marney comments.
Most has extensive experience in both formal and nonformal science communications as well as livestock production, ruminant nutrition and stress physiology. His graduate thesis focused on the physiological effects of inflammation mitigation in heat-stressed wethers.
He plans to share key results of this research as part of his first programming efforts. "It is important for producers to be mindful of the welfare of their livestock during all conditions," he says, "but the potential for negative outcomes due to heat stress is feeling especially relevant during the recent bouts of hot weather."
Most earned his bachelor's degree in animal science from University of Nebraska – Lincoln, working as a research assistant in ruminant nutrition and stress physiology.
Growing up on a farm in western Nebraska, he participated in 4-H livestock projects and learned firsthand about improving productivity in livestock and crop enterprises.
Now, Most is excited to explore the Bighorns. "The higher elevations offer all kinds of adventures, and I am also enjoying getting to know the local businesses, galleries, museums, and restaurants," he shares.
Contact Most at mmost@uwyo.edu or (307) 684-7522 for questions relating to agriculture and natural resources in Johnson County.