This spring, the University of Wyoming College of Agriculture and Natural Resources celebrated faculty and staff members for their outstanding contributions to the university community.
"This was the first banquet we've had in two years, because of Covid. It was an amazing opportunity to get people together and recognize staff and faculty," says Dean Barbara Rasco.
Recipients of the 2021-2022 awards included staff and faculty from the college's business operations team and the Departments of Animal Science, Family and Consumer Sciences, Molecular Biology, and Plant Sciences.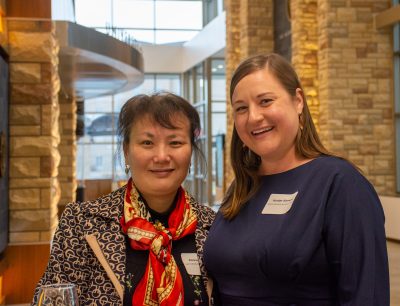 College of Ag staff recognized for exemplary service and student advocacy
 This year, four staff members received the College of Agriculture and Natural Resources Outstanding Staff Award in recognition of their dedication and exemplary service.
Winter Hansen, assistant director of business operations in the College of Agriculture and Natural Resources, was one of the four recipients. Hansen "truly embodies the spirit of this award," says Maria Jenks, director of finance and administration. "She continually looks for ways to make things better for others and does not believe in doing things 'halfway.'"
Ellyn Sturgeon of the Department of Plant Sciences is also very deserving of this honor, says department head Andrew Kniss. In her role as office associate, Ellyn is a tenacious advocate for students, he reports. "Ellyn has been a tremendous source of level-headed stability to our department and college. She has kept our department focused on the important tasks and ensured that our students remain our top priority."
In the Department of Animal Science, Meat Laboratory Manager Kyle Phillips received the Outstanding Staff Award. "Since joining the department in 2019, Kyle has been instrumental in supporting research, teaching, and extension efforts," comments department head Bledar Bisha. "Kyle is respected by students, faculty, and staff in the department because of his drive, his ability to work well with others, and his professionalism."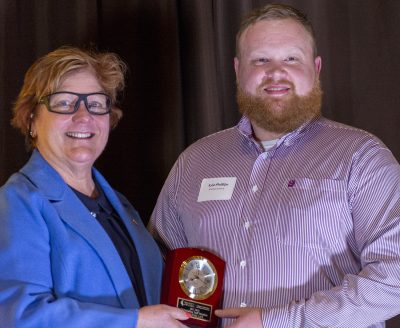 Yana Nightingale, office associate in the Department of Microbiology, also earned the 2021-2022 Outstanding Staff Award. She consistently excels in her duties, reports department head Jay Gatlin.
Faculty in plant sciences and family & consumer sciences earn outstanding educator awards
 Randa Jabbour, associate professor and graduate program coordinator for the UW Department of Plant Sciences, was one of two recipients of the College of Agriculture and Natural Resources Outstanding Educator Award. She "is engaging, designs thoughtful, effective assessments, and cares deeply about the success of her students. She is the first person I ask when I have questions related to education or student mentoring, so it is great to see her recognized for her teaching expertise and commitment to our students," comments department head Andrew Kniss.
Treva Sprout Ahrenholtz, senior lecturer in the Department of Family and Consumer Sciences, also received the Outstanding Educator Award. "Treva is consistently recognized as an instructor who has high but fair expectations, is passionate and knowledgeable about the field, cares about her students' success, and provides opportunities to support her students' professional growth," says department head Christine Wade.
To learn more about the UW College of Agriculture and Natural Resources, please visit www.uwyo.edu/uwag.