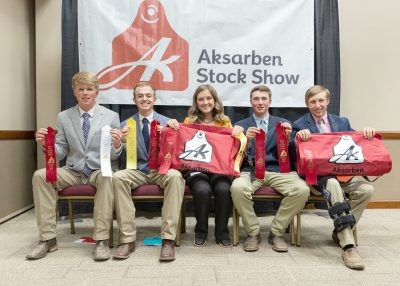 The Wyoming All-Stars 4-H livestock judging team finished second in Aksarben Stock Show competition in Grand Island, Neb., in September.
Team members are Riley Miller, Kolton Lake and Kymber Stinson, all of Laramie, Garrett Burkett of Casper, and Braden West of Sheridan.
"The Wyoming All-Stars had a fantastic trip to Grand Island, where they competed against the best of the best in 4-H livestock judging," said Curtis Doubet, University of Wyoming livestock judging coach.
Stinson was ninth high overall, Burkett 10th and Miller 11th high.
They earned the trip by being the five members of the Wyoming All-State senior team, competing at contests all summer and earning points based off their finishes, said Doubet. Their season culminated at the state fair, where they were recognized as the five best livestock judgers in the state.
"These students traveled with the university's livestock judging team all week in preparation for the contest and represented the youth in the state of Wyoming to the highest level," said Doubet.