An assistant lecturer in the College of Agriculture and Natural Resources has received the Teacher of the Year award from the WYO-Gold student organization of the University of Wyoming Alumni Association.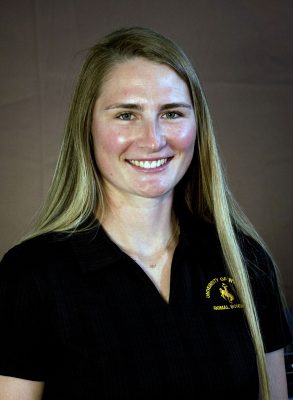 McKensie Harris in the Department of Animal Science was recognized for providing engaging instruction in food and meat science courses.
"McKensie Harris is an outstanding professional who is doing a wonderful job in teaching, extension, service and advising in the department," said Bledar Bisha, Department of Animal Science interim head. "She contributes to many core and specialty courses, both as primary instructor and as a guest lecturer."
Harris grew up near Laramie and received her undergraduate degree from UW. She earned her graduate degree in meat science from Texas A&M University and returned to UW as an instructor.
"Her departmental colleagues appreciate her hard work and sustained effort to advance our missions as well as her continuous desire to learn and improve professionally," said Bisha. "Ms. Harris has quickly established and demonstrated her leadership qualities and put them to great use in the betterment of a variety of programs in the Department of Animal Science and we are honored to have her in our ranks. She is very deserving of this award."