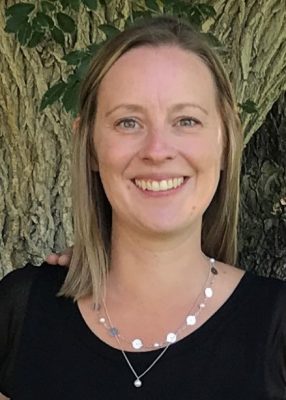 An associate professor and head of the Department of Family and Consumer Sciences has received the Outstanding Advisor Award from the Mortar Board, the University of Wyoming's senior honor society
Christine Wade, who joined the College of Agriculture and Natural Resources in 2008, also serves as an adviser to the UW chapter of Mortar Board.
"Dr. Wade has done a fantastic job with Mortar Board this year, and I think we all appreciate her work and efforts," said nominator Christian Moncrief, an environment and natural resources and psychology double major from Cheyenne.
The Outstanding Advisor Award honors a member of the university community who has performed outstanding academic, career and personal advising. Students are asked to nominate individuals who skillfully, and consistently, provide academic advice as well as career guidance, and who establish personal relationships with their students.
Wade received her bachelor's degree in psychology and mathematics in 2001 from Willamette University, and her master's degree in 2005 and Ph.D. in 2008 in developmental psychology from UW.
"Dr. Wade's dedication to the students, both in and out of Mortar Board, shows her true passion for what she does," said nominator Hailey Moss, an outdoor recreation and tourism management major from Douglas.