Three free University of Wyoming Extension publications on extending the growing season, greenhouses and hotbeds and cold frames have been revised and are available for download in PDF, HTML or ePub formats.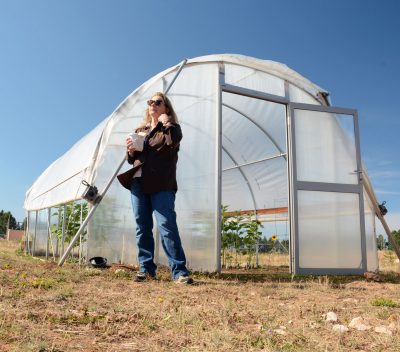 "These bulletins cover season extension from very basic and inexpensive strategies to the ultimate season-extender: a greenhouse," said Karen Panter, UW Extension horticultural specialist, and author of the publications. "Together with UW Extension's High Tunnel Handbook, growers can use the information to start crops earlier in the spring, produce them later in the fall or go year-round with a greenhouse."
Extending the Vegetable Growing Season, http://bit.ly/B-1148R, explains general considerations and provides information on how to start vegetables indoors, warm-season vegetables, cool-season vegetables, variety selection, mulching and season-extending tips.
With slight modifications to counteract the short growing seasons, cool temperatures, low humidity and high wind characteristics, vegetable gardens can be grown almost anywhere in Wyoming, said Panter.
Greenhouse Structures, http://bit.ly/B-1147R, shares general considerations in selecting a greenhouse and offers information on covers, heating, ventilation, cooling, controls and accessory equipment.
"A greenhouse provides a means of changing the environment around plants to improve their growth," said Panter.
The publication includes drawings and charts with suggested appropriate temperatures for growing common vegetables and flowers.
"Seedlings are often started in a greenhouse and moved to a hotbed when they fill the available space," said Panter.
Gardening: Hotbeds & Cold Frames, http://bit.ly/B-1151R, teaches how to construct, cover, heat and manage hotbeds and how to build, shelter and manage cold frames.
Hotbeds provide an economical way to grow plants until they are transplanted to their permanent outdoor locations. Cold frames work as solar heat traps to warm soil and plants during late fall and early spring, shared Panter.