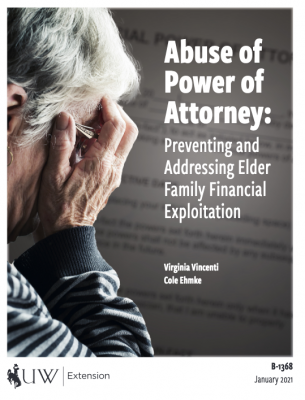 University of Wyoming Extension has a new, free, 26-page bulletin on how to avoid abuse of power of attorney.
The new publication, Abuse of Power of Attorney: Preventing and Addressing Elder Family Financial Exploitation, describes factors that put individuals and families at risk for power of attorney abuse and provides recommendations for safeguards to include in the document, as well as how to respond to suspected abuse.
"While a power of attorney document is excellent for helping someone manage their affairs, sometimes the power is misused," said Cole Ehmke, UW Extension personal finance specialist. "The effects of this betrayal can be catastrophic – estates can be drained, and the stress can compromise an elder's health. Plus, this abuse results in family fractures."
Ehmke said that financial exploitation using a power of attorney is a concern in Wyoming.
"A power of attorney is a legal document used by an individual to allow someone else to act on their behalf financially," he said. "In the wrong hands, a perpetrator can steal money or transfer assets against the best interests or wishes of the grantor."
Most abuse of a power of attorney is by family members entrusted to help their elder parents, he said.
"As the Baby Boomer generation ages into retirement and refines their estate plans, they might put themselves at risk by trusting the wrong person and not creating a strong document," Ehmke said.
The new guide is an outgrowth of a USDA-funded multistate research project initiated by Virginia Vincenti, now Professor Emeritus in family and consumer sciences in the College of Agriculture and Natural Resources.
The publication lists risk factors to consider when choosing someone who will have power of attorney and recommended terms to include in a power of attorney document, she said.
"We set out to document the often-secretive experiences, and especially the consequences, within families of when a family member misuses a power-of-attorney document to financially and otherwise abuse an older relative," said Vincenti. "Our interviews identified problematic attitudes and behavior patterns that were ignored when the power of attorney agent was selected."
A free printed copy can be requested by contacting Ehmke at cehmke@uwyo.edu or 307-766-3782, and is also available as a downloadable pdf at https://bit.ly/elderly-abuse.
Financial support for the guide's distribution comes from the John P. Ellbogen Foundation Wyoming Communities, Agriculture, and Rural Living Project.