An assistant lecturer with more than 10 years' college teaching experience and in extension has joined the Department of Plant Sciences at the University of Wyoming.
Liz Moore joined the department this semester in the College of Agriculture and Natural Resources.
"I am very excited to be at UW and join an amazing faculty in the plant sciences department," said Moore.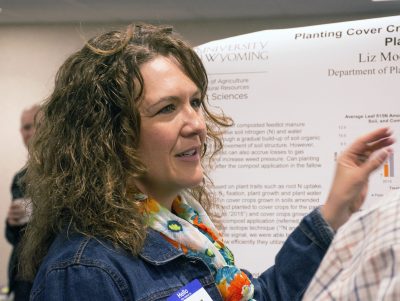 Moore grew up in the Texas Panhandle near Amarillo and received her bachelor's and master's degrees and later taught at West Texas A&M
University. She also was the county horticulture extension agent.
Her husband accepted the position at UW of associate vice provost of enrollment management in 2017, and Moore began the Ph.D. program in 2018. She is advised by Urszula Norton, an associate professor in the plant sciences department.
"I always wanted to pursue my Ph.D., but the timing simply wasn't right until we moved to Wyoming," said Moore. "I was so excited to find out the quality plant sciences department UW had and the fact that I could finally begin the journey to obtaining a Ph.D. and possibly returning to the collegiate classroom to teach once again."
Moore is studying cover crops in areas of high altitude and low moisture in both large-scale agriculture (primarily dryland winter wheat) and small-scale specialty crop production.
She coordinates and teaches an agroecology laboratory this semester.  She will add a first-semester seminar class and a horticulture science course next fall.