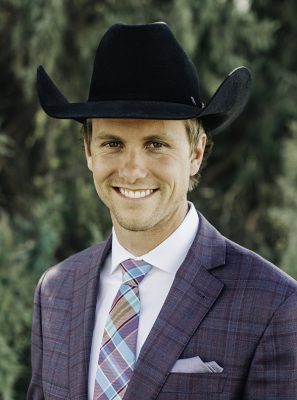 The University of Wyoming livestock judging team begins workout practice Dec. 12 with a new coach heading into spring competition.
Curtis Doubet started Nov. 30, joining the Department of Animal Science in the College of Agriculture and Natural Resources. He replaces Caleb Boardman, who accepted a position at Texas A&M University.
Doubet finished this fall as coach at Northeastern Junior College (NJC) in Sterling, Colo., and said one reason he came to UW is what he called the deepest class of livestock judges he's ever seen.
"Caleb has built the program into a legitimate contender every year," Doubetsaid. "The current team is one of the best in the country."
Doubet was a student member of the NJC team and then at Colorado State University, later becoming its coach before moving to the NJC coaching position.
He said the 12-member UW team has students from across the country with a mix of transfer and traditional in-house students who have been at the university.
The team's first contest is the Jan. 2-17 Cattlemen's Congress in Oklahoma City, then the Sioux Empire Livestock Show in Sioux City, Iowa, the end of January.February competition begins with livestock judging during the Patriot Junior Market Steer Show in Abilene, Texas.
"I've been around academia for a long time, and I have never seen the excitement and support for livestock judging like Wyoming has," Doubet said. "I'm extremely impressed with the university. It says a lot about the school."