A free publication from the University of Wyoming Extension about sheep phosphorus requirements and management considerations for Intermountain West ranchers is now available for download as a PDF, HTML or ePub format at http://bit.ly/B-1362.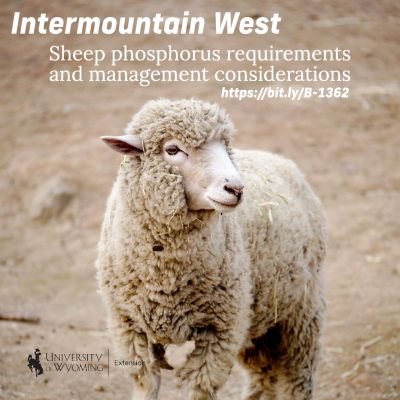 "This publication highlights the need that sheep producers regardless of their management systems, rangeland or farm flock, need to consider the essentiality of phosphorus (P), a nutrient that we usually deliver with providing a mineral," said Whit Stewart, UW Extension sheep specialist.
Stewart explained research in the field is showing about a third to a half of all producers are not consistently providing supplemental minerals to their sheep.
This publication provides information for producers on how much P is contained in common feedstuffs, how much is needed for various classes of sheep, like lambs and pregnant ewes, and related consequences of deficiencies and imbalances.
"I work with many feed companies on tailoring their sheep minerals to be more tailored to individual operations, and they repeatedly request these types of publications, which means I have to balance practicality and technicality for the various audiences that rely on research-based information extension is known for," said Stewart.
More stories from the UW College of Agriculture and Natural Resources, UW Extension and Wyoming Agricultural Experiment Station are at uwagnews.com.