University of Wyoming animal science Ph.D. student Chad Page has received the Young Scholar Award from the Western Section of the American Society of Animal Science.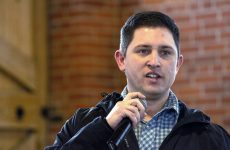 The ASAS Western Young Scholar Recognition Program features the research accomplishments of recent or current Ph.D. and master's graduates.
Page is working on his Ph.D. under the direction of Whit Stewart, assistant professor and University of Wyoming Extension sheep specialist. Page has been involved in many extension presentations, workshops and research.
Page, originally from Chandler, Ariz., earned his bachelor's degree in animal health with a veterinary science emphasis from Brigham Young University in Idaho in 2015. He completed his master's in animal and range sciences at Montana State University in 2017 and plans to start this month his position with Utah State University as an assistant professor of production animal agriculture with an emphasis in small ruminants.