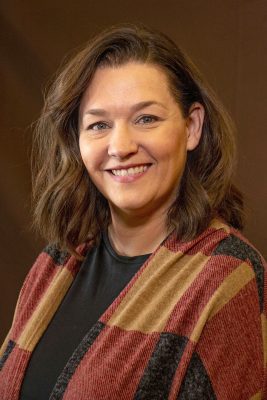 An administrator known for her efforts to break down work silos and foster teamwork is a new associate director of University of Wyoming Extension.
Mandy Marney joined the University of Wyoming this week. She was formerly a district director for research and extension at Kansas State University and prior to that served at the University of Missouri as a program director in the Agricultural Experiment Station, as a community development specialist for extension and as an extension associate in bioengineering.
"Mandy comes to Wyoming with a wealth of experience working with rural communities and county governments to ensure extension remains relevant and responsive to their needs," said Kelly Crane, UW Extension director. "I am excited to have Mandy join the UW Extension team, and I look forward to her continued success working with our extension educators to serve Wyoming communities."
Marney said her efforts at Kansas State University created an atmosphere among faculty and staff members that encouraged specialized and transdisciplinary programming.
"We are increasingly finding that extension is poised to tackle complex, social issues – and moving beyond an interdisciplinary to a transdisciplinary approach has allowed us to tackle multiple facets of issues such as culture of health, local foods and rural development," she said.
Marney earned three degrees from the University of Missouri-Columbia: a Ph.D., in human environmental sciences with a graduate certificate in community processes; a master's degree in environment and behavior, architectural studies; and a bachelor's degree in agricultural journalism.
UW Extension has offices in every Wyoming county and the Wind River Indian Reservation. 4-H is the youth arm of UW Extension, and its state offices are in the College of Agriculture and Natural Resources.