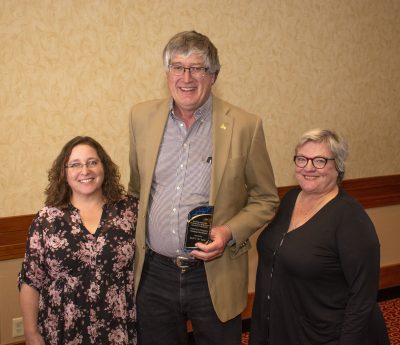 Providing significant economic analyses of environmental issues, communities, tourism and recreation and endangered species earned recognition for a now-retired agricultural economist at the University of Wyoming.
David "Tex" Taylor received the Friend of Community Development Award from the Wyoming Association of Community Development Extension Professionals (WACDEP) at the annual University of Wyoming Extension training conference in November.
"He has been one of the finest extension specialists the college has offered; his work has impacted every community in Wyoming," said nominator Mary Martin, a UW Extension educator based in Teton County.
Taylor, a professor emeritus, worked 43 years in the College of Agriculture and Natural Resources, first as an extension educator and later joining the faculty of the agricultural and applied economics department where he was a community development specialist. He was also a long-time member of the state's Consensus Revenue Estimating Group. CREG provides revenue estimates used by the executive branch and Legislature in the state's budgeting process.
WACDEP annually recognizes someone who has demonstrated expertise and provided significant contributions to the quality of life in their community.
"His research was not research for research sake. It was research for the sake of community efforts in evaluating, visioning and decision making," said Martin.
Martin commended Taylor for his work in the Big Horn Basin and then his time in Teton County as an extension agent from helping with the Jackson Hole Chamber of Commerce to managing projects within the 4-H program.
"He was instrumental in the development of the protocols for the Teton County 4-H Council's Foundation and investment strategies," said Martin.
After some time in the field, Taylor moved to the UW campus and completed his Ph.D. in agricultural economics from Colorado State University.
Taylor's work as an economist has been instrumental toward development of Wyoming, said Martin.
In 2017, Taylor was the recipient of the Vanvig Lifetime Achievement Award from the College of Agriculture and Natural Resources and has had many other achievements and accomplishments that make him a recognized figure within Wyoming, the Western region and nationally, said Martin.
Taylor retired this year.