Fermentation is an ancient method of making food safer and last longer. Carbohydrates are converted to alcohol or organic acids through the actions of bacteria (or yeast) in an oxygen-free environment.
The presence of bacteria makes these foods a probiotic, or a product that contains live bacteria, which may confer health benefits.
Therapeutic use of probiotics to promote healthy gut function has increased due to health concerns arising from an imbalance in the type and number of bacteria in the gut (aka gut microbiota).
Why kimchi?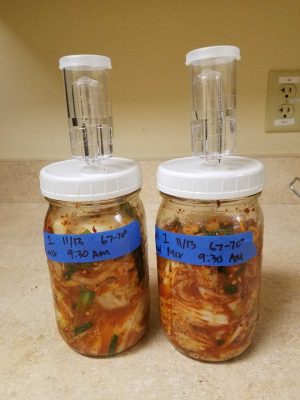 Fermented foods are common in diets across the globe; however, they are rarely included in nutritional guidelines/recommendations. Common fermented foods include yogurt, sauerkraut, kombucha, kefir, and kimchi. Kimchi is commonly consumed in Korean diets but less so in the typical U.S. consumer diet. Kimchi is made by fermenting a mixture of cabbage, salt, red peppers, radishes, and a variety of other spices. The main ingredients of kimchi, predominately the cabbage and other vegetables such as daikon radishes and garlic, also provide "prebiotics" or food for the healthy bacteria in the gut.
What did we want to know about fermented foods?
Does regular intake of fermented foods (specifically, kimchi) have an effect on stomach/gastrointestinal problems?
What do people think of the taste, smell, and other sensory characteristics of kimchi?
Why do we care if fermented foods influence gut function?
All of us have likely experienced gastrointestinal (GI) symptoms (nausea, vomiting, diarrhea, constipation). They can range from mildly annoying ("my stomach is noisy") to debilitating ("I can't leave the house" or "I always need to know where the nearest restroom is located").
Irregular GI symptoms affect about 14 percent of the U.S population, although only a little over 3 percent are clinically diagnosed with irritable bowel syndrome (IBS). The effects of irregular GI symptoms are associated with a severe decrease in quality of life for an individual and a substantial financial burden on society due to missed work and doctor visits. Because IBS is experienced differently by each person and is difficult to diagnose, physicians rely heavily on patient symptoms alone.
The limited information available for consumer acceptability of fermented foods, including kimchi, is another reason to explore fermented foods. While there has been a recent rise in popularity of functional fermented foods, little is reported on preference for kimchi in the U.S., including sensory characteristic evaluations.
How did we evaluate the impact of fermented foods?
We recruited 20 people for a dietary intervention study during fall 2017. Those healthy people were between the ages of 18-40 years and were experiencing irregular GI symptoms following consumption of foods typical to their respective diet.
The first thing we asked them to do: Sample the kimchi
We asked participants to rate the sensory characteristics of the kimchi (appearance, flavor, texture, aroma, mouthfeel, and overall acceptability) on a 7-point scale (7= extremely like, 4= neither like nor dislike, 1= extremely dislike).
We also asked them to rate the overall palatability and feasibility of including kimchi in their typical diet, again using a 7-point scale (7=strongly agree, 1=strongly disagree) for five statements:
"I enjoy consuming fermented foods as part of my regular diet",
"I am aware of different types of fermented foods and how to prepare them",
"I am interested in learning more about the different types of fermented foods",
"I am willing to eat kimchi in the future", and
"I plan on consuming kimchi regularly".
The second thing we asked them to do: Eat the kimchi for two weeks
We asked participants to consume one-half cup of kimchi twice a day for 14 days. We asked them to complete a few forms at the beginning and the end of the test period:
Three-day food records (one during week 1, one during week 2)

Gastrointestinal Symptom Rating Scale (GSRS) 

Stool diaries using the Bristol Stool Scale (BSS)

What happened when people included kimchi in their diet?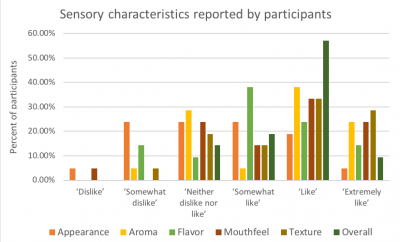 Sensory analysis: Overall, participants favored the sensory qualities associated with kimchi.
Food intake: No significant differences between week one and week two were detected for any of the selected nutrients. This helped us see if any changes in GI function were due to the kimchi or other dietary changes. The kimchi in this study contributed an additional 4 g of dietary fiber and 1,400 mg sodium per day.
GI symptoms (from the GSRS): Consuming one-half cup (75 grams) of kimchi twice a day for 14 days contributed to a significant decrease in severity of:
Abdominal pain,
Heartburn,
Acid regurgitation,
Abdominal rumbling and distention, and
Eructation (belching) and gas production
Stool form (from stool diaries using the BSS): The kimchi consumption had no significant effect on typical stool form; however, we did measure a slight increase in frequency of slow and normal bowel movements between the first and second week.
Implications for health and nutrition professionals
Use of a functional probiotic food source is becoming increasingly popular. Interpreting the ability for kimchi to act as a probiotic with the potential of improving GI health provides health professionals an additional option to recommend to patients or clients. Kimchi allows for inclusion of a nutrient-dense vegetable source that has potential to impact GI health. Importantly, kimchi, as a fermented food, may provide a feasible and appetizing method of including probiotics in people's diets.
Implications for consumers
Kimchi is a nutrient-dense, palatable (according to our participants!) option for consuming probiotics. Probiotics have proven health benefits, so here is some encouragement to include some delicious fermented foods as part of your regular diet!
Future directions
Our hope is to expand this research to have a larger group of participants try fermented foods, perhaps through coordination with medical professionals in Wyoming who work with patients with IBS. We are also closely examining the microbial content of homemade kimchi versus commercially prepared kimchi.
Basic Napa Cabbage Kimchi
1 (2-pound) napa cabbage
1/2 cup kosher salt
About 12 cups cold water, plus more as needed
8 ounces daikon radish, peeled and cut into 2-inch matchsticks
4 medium scallions, ends trimmed, cut into 1-inch pieces (use all parts)
1/3 cup Korean red pepper powder
1/4 cup fish sauce
1/4 cup peeled and minced fresh ginger (from about a 2-ounce piece)
1 tablespoon minced garlic cloves (from 6 to 8 medium cloves)
2 teaspoons Korean salted shrimp, minced
1 1/2 teaspoons granulated sugar
Cut the cabbage in half lengthwise, then crosswise into 2-inch pieces, discarding the root end. Place in a large bowl, sprinkle with the salt, and toss with your hands until the cabbage is coated. Add enough cold water to just cover (about 12 cups), making sure the cabbage is submerged (it's OK if a few leaves break the surface).
Cover with plastic wrap or a baking sheet and let sit at room temperature at least 12 hours and up to 24 hours.
Place a colander in the sink, drain the cabbage, and rinse with cold water. Gently squeeze out the excess liquid and transfer to a medium bowl; set aside.
Place the remaining ingredients in a large bowl and stir to combine. Add the cabbage and toss with your hands until evenly combined and the cabbage is thoroughly coated with the mixture. Pack the mixture tightly into a clean 2-quart or 2-liter glass jar with a tightfitting lid and seal the jar. Let sit in a cool, dark place for 24 hours (the mixture may bubble). Open the jar to let the gases escape, then reseal and refrigerate at least 48 hours before eating (kimchi is best after fermenting about 1 week). Refrigerate for up to 1 month.
Makes approximately 1-1/2 quarts.
Recipe courtesy of Chowhound, http://bit.ly/chowhoundkimchi.
Authors: Jill Fabricium Keith, Assistant Professor, Taylor Kraft, Master's student, Department of Family and Consumer Sciences.
To contact: Keith can be reached at (307) 766-5248, jkeith5@uwyo.edu.