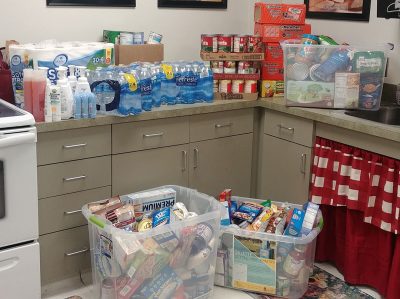 More than 500 pounds of food were donated to the Gillette Free Little Pantry during its first anniversary celebration July 17 hosted by ANB Bank in Gillette.
The donations doubled what had been received since the project began in July 2018. The items help provide for community members affected by the layoffs at the Eagle Butte and Belle Ayr mines outside Gillette.
"Since the massive layoff, we have seen an uptick of use in the pantries, both in need and in donations," said Beth Chapell, Cent$ible Nutrition Program (CNP) educator in Campbell County. "I've also received a couple of phone calls asking where the pantries are located by people who have a need but don't yet qualify for the local food pantry."
The FLP project is a collaborative effort between the University of Wyoming Extension CNP, the Edible Prairie Project, the city of Gillette and the Council of Community Services. Chapell helps maintain the five pantries, which are in public spaces throughout Gillette.
Anyone can access the pantries anytime, no questions asked, no qualification needed.
"We received quite a few comments at the celebration about what a good idea the FLPs are and some gratitude as well," said Chapell. "More than one person mentioned how they wanted to support the community because of how it's supported them in the past. And they loved what the FPPs stood for: equal access and no judgment."
CNP is funded by the USDA Supplemental Nutrition Assistance Program Education (SNAP-Ed) and Expanded Food and Nutrition Education Program (EFNEP). CNP provides nutrition education to individuals and families with limited resources. CNP also partners with community organizations serving populations with limited resources to help make the healthy choice the easy choice for everyone, according to the program information. Visit www.uwyo.edu/cnp to find out more.