"Wyoming, please follow the moderator into your competition room," shouted someone from the front room at the Meat Science Quiz Bowl June 22.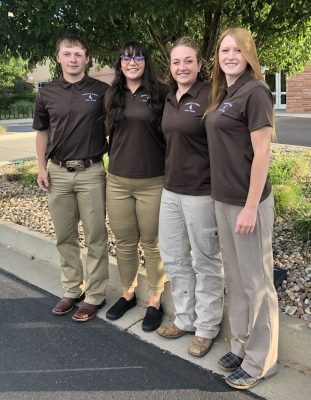 Four students from the University of Wyoming meats judging team, along with their coaches McKensie Harris and Sierra Jepsen and Cowboy Branded Meats summer intern Sarah Dey of Cheyenne, attended the Reciprocal Meat Conference (RMC) in Fort Collins, Colo.
The American Meat Science Association (AMSA) hosts the annual event with JBS USA Food Company and Colorado State University.
Haley Cole from Cheyenne, Jacob Lugar from Douglas, Clara Ritchie from Golden, Colo., and Erika Eckhardt from Sterling, Neb., competed at the Quiz Bowl.
"I am blown away by how much these students changed over the course of the conference," said Harris. "They went into the Quiz Bowl competition on the first day a little hesitant of their abilities but left the RMC on the final day with a lot of pride knowing they competed very well against many impressive teams."
The conference hosts technical programming, social events and student activities, like the Quiz Bowl competition.
Each round of competition involved 40 questions covering meat science topics. During the first 20 questions, students competed head-to-head where one student from one team would compete against one student from the other team to see who could press the buzzer faster and answer the question correctly.
The last 20 questions were free-for-all. Anyone from either team could buzz in to answer.
The UW team won their first two rounds against Utah State University and UC Davis.
During the third round, informally called the "Border War," UW lost against Colorado State University. The UW team still had a chance to compete in the fourth round but came up short in the last 20 questions against Texas A&M.
The students also competed in the Iron Chef competition. Students were paired with students from other universities and tasked with making two chicken dishes, showcasing cultural seasonings found around the world.
This competition was sponsored by Pilgrim's Pride and was at the JBS Corporate Headquarters in Greeley, Colo. Students had to opportunity to use their state-of-the-art culinary facilities.
Cole, Lugar, Ritchie, Eckhardt and Dey attended the career fair and reciprocation sessions, which allowed them time to network with professionals.
"This conference brings together people from all corners of the industry and gives our youth the chance to interact with students from other universities, academic professionals, industry leaders and research visionaries," said Jepsen.
They ended their time at the conference at the RMC Family Picnic. There was a softball game, live t-shirt auction and an opportunity to socialize.
UW plans to attend next year's RMC, hosted in conjunction with the International Congress of Meat Science and Technology in Orlando, Fla. at Disney World's Resorts. Coaches hope to have more students to compete in the Quiz Bowl, Iron Chef and expanded student opportunities.
"The excitement that attendees have for meat science is palpable, and it's impossible to not get excited yourself about the possibilities that meat science holds," said Jepsen. "We want our students at the University of Wyoming to feel that excitement and realize that they, too, can have a place in this industry."