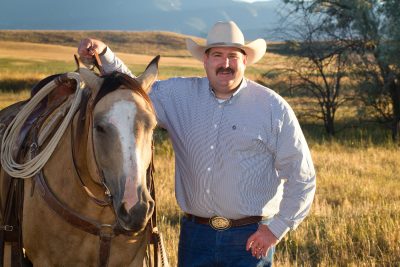 The president of the Ranchester-based Padlock Ranch will present "Ranching With a Purpose" during lunch Wednesday and pairing the right dogs to the right predators is the Thursday lunch topic during Fremont County Farm and Ranch Days Wednesday-Thursday Feb. 6-7 in Riverton.
This year's event at the Fremont County Fairgrounds has 30 sessions over two days, plus private pesticide applicator classes all day Thursday. Sessions begin 9 a.m. and end 3:45 p.m. each day. Free lunches are prepared by the Fremont County Cattlewomen and provided by event sponsors.
The Lander and Riverton Fremont County extension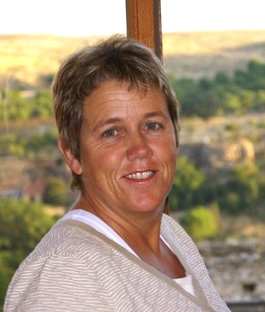 offices plan and coordinate the annual event.
Fremont County extension educator Chance Marshall said planners hope to have something exciting for everyone at this year's conference.
"This tradition will be 35 years old this year, and there's lots to talk about with agriculture in Fremont County and Wyoming," said Marshall. "The two-day educational expo will consist of over 30 educational presentations and a bigger-than-ever trade show of mostly local vendors."
Padlock Ranch CEO Trey Patterson is scheduled 12:45-1:45 p.m. following lunch Wednesday. Patterson, a former extension beef specialist for South Dakota State University, joined the ranch in 2005. The Padlock Ranch is a family-owned, integrated cow/calf feedlot and farming operation.
Cat Urbigkit's keynote lunch address about guardian dogs is the same time Thursday. Urbigkit lives on her family's working sheep ranch in western Wyoming. She is a full-time non-fiction book author, photographer and blogger and is co-owner and editor of The Shepherd magazine.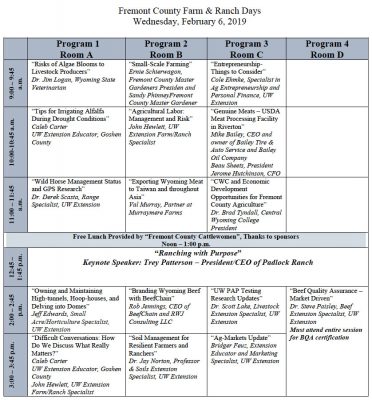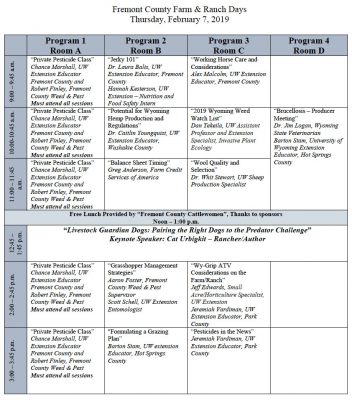 Wyoming State Veterinarian Jim Logan starts sessions Wednesday discussing risks of algae blooms to livestock producers. Various Wyoming agencies collaborated to determine bodies of water that potentially have algal blooms that are harmful to livestock. Logan will talk about confirmed cases in Wyoming and what producers should watch for.
Other topics Wednesday include the Genuine Meats meat processing facility in Riverton, BeefChain, Central Wyoming College and economic development for Fremont County agriculture, small-scale farming soil management and ag markets.
Thursday sessions include making beef jerky, a producer brucellosis meeting, potential for hemp production and regulations in Wyoming, working horse care, wool quality and selection, Wyoming weed watch list, grasshopper management, creating a grazing plan and ATV safety.
For more information, contact Marshall at 307-682-7281 or cmarsha1@uwyo.edu.