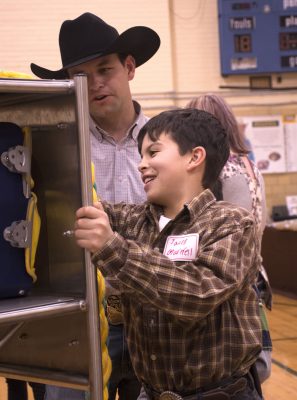 Big Horn Basin students can gain information from agricultural and non-agricultural businesses and from four community colleges and the University of Wyoming during the Youth Career Event Tuesday, Feb. 12, in Worland.
The event is 5:30-7:30 p.m. and is part of WESTI Ag Days Feb. 12-13 at the Worland Community Center Complex, 1200 Culbertson Ave. The detailed WESTI Ag Days schedule is at http://bit.ly/WESTI2019.
Dinner is provided, and registration is requested by Feb. 11, said Amber Armajo, UW Extension youth educator in Washakie County. Call 307-347-3431 to register.
Businesses representing animal science, sales, seed production, welding, bee keeping, agronomy, aviation and research are scheduled to be present. Officials from UW, Northwest College, Sheridan College, Casper College and Central Wyoming College will answer questions and provide information.
Armajo said the event has grown each year. Convenience is probably one reason, she noted.
"One, all of the colleges are right there," she said. "You can get information from the four community colleges and the University of Wyoming. And two, if the students are unsure what they want to do, this is a great opportunity to visit and get real-life advice from people in a business or having worked in that area as a career."
Armajo said businesses may have opportunities for internships or be willing to have students spend a day at their facilities.
WESTI Ag Days keynote speaker and guest presenter Andy Junkin will also attend the event, said Armajo. Junkin specializes in improving how farm families make decisions together and increase profitability.
Contact Armajo at 307-347-3431 for more information.