If he can name all the animals, I can name all the plants, Camellia Moses Okpodu decided. As a young 4-H student flipping through the pages of National Geographic, the renowned research scientist was fascinated by a photo of an archaeologist sitting at a large desk, cataloging animals by their scientific names. She figured if he could identify all those animals, then she should be able to do the same with the plants on her grandparents' farm in North Carolina.
Encouraged by her uncle, Okpodu earned a blue ribbon for her 4-H project. More importantly, the experience nurtured a lifelong curiosity that inspired her to pursue a career in biochemistry and plant physiology.
Currently a faculty member in the University of Wyoming Department of Botany, Professor Okpodu was recently ranked one of the top 10 Black biologists from the last 30 years by Academic Influence, an organization that generates objective, data-based rankings for academics and educational institutions across the U.S.
Nationally recognized for her research on stress metabolism in plants, ethnobotany, and coastal resilience, Professor Okpodu takes a unique, interdisciplinary approach to her studies, collaborating with colleagues in the social sciences to develop a more holistic understanding of ecological systems.
"I don't like the idea of silos," she says. "I think that's how you don't create an inclusive environment, if you just stay in your one lane. I like the weaving of a story. I call my way of thinking a systems approach."
Plants, plays, and pageants
Most scientists don't put themselves through college by winning pageants. But Professor Okpodu has a passion for the performing arts as well as the sciences.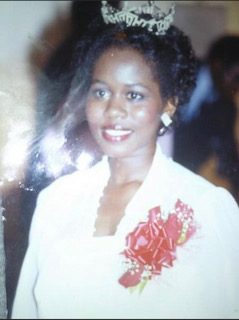 She was the first African American woman to earn the title of Miss Brunswick County in North Carolina. "I was told that complexion, color, made a difference. And I've never listened to anybody about that…I didn't accept other people's decisions about me. I figured I had just as much chance as the next person."
Okpodu used the scholarship from the pageant to fund her undergraduate degree in biochemistry at North Carolina State University, then moved on to complete her Ph.D. in plant physiology and biochemistry.
Since then, she has served as a faculty member at Hampton University, Elizabeth State University, and Norfolk State University. She has also served as a college dean at Xavier University and UW.
In summer 2022, Okpodu spent her mornings writing the prospectus for a biology textbook. She is co-authoring the book with one of her three daughters, a biophysicist. (They're a good team—when they're not arguing about whether plant physiology or human physiology is more complex.)
Okpodu is a musician and a playwright as well as a science writer. Friday is her designated creative day, dedicated to working on projects like a three-act play featuring Lucinda Phillips, founder of the African Methodist Episcopal Church in Cheyenne.
On her bedside table you might find everything from calculus textbooks (she still enjoys working the problems!) and scientific journals to mystery novels and social analyses like Caste: The Origins of Our Discontents.
Ethnobotany and the Emancipation Oak
In 2012, residents of Hampton Roads asked Okpodu, then a faculty member at Hampton University, to help show that several trees slated for demolition by the city were related to the historic Emancipation Oak.
Roughly 150 years before, members of the Black community gathered around the Emancipation Oak to listen as President Abraham Lincoln read the Emancipation Proclamation, which officially ended slavery in the U.S.
Using random amplified polymorphic DNA (RAPD) testing, Okpodu and her students determined the percentage of genetic relatedness of the Old Pointe oaks, which the city intended to remove, to the Emancipation Oak.
They found that the trees slated for removal were most likely explants from the Emancipation Oak. In an article published in the Journal of Plant Sciences, Okpodu's team noted that "'The Emancipation oak' and its off-spring provide a biological legacy that is culturally important.'"
The Old Pointe oaks were left untouched.
Much of Okpodu's research probes the intersection between science and society. In this ethnobotanical study, she helped preserve a piece of culture and history while also demonstrating that RAPD was a useful method for investigating genetic similarity in trees, with potential applications in tree breeding and conservation.
Lessons from a JEDI: What a scientist looks like
"I call myself a JEDI," Okpodu says, "which stands for justice, equity, diversity, and inclusion…If we can establish inclusive environments where all are welcome at the table, the other three will naturally come."
She vividly remembers standing in front of a class at Hampton University, wearing a lab coat and asking her students a deceptively simple question: what does a scientist look like? They described everything except for me, she recalls. "So I had to say, I am a scientist—and scientists can be anyone."
Okpodu stresses that improving affordability and accessibility in higher education is crucial to building a hopeful future. "We need to make it so it's not just an elite opportunity. It has to be something that is attainable for everyone," she says.
That means expanding access to students in rural communities in the West as well as students in underrepresented communities across the country.
"I'm not a first generational college student…but it doesn't matter. I could have five generations of college-educated people, but if access and systemic ways of doing things are put into place to keep me out, where I'm not included, it doesn't matter," she explains.
For Okpodu, improving access also means reaching out to other land-grant universities to foster intercollegiate research and facilitating opportunities for students to participate in national programs like Minorities in Agriculture, Natural Resources and Related Sciences (MANRRS).
Sea grasses and social justice
At North Carolina's Elizabeth City State University, where she was the first endowed chair of biology, Professor Okpodu began studying coastal resilience in local plant communities.
As she analyzed the stress responses of sea grasses in the Tidewater region, she wondered how the human communities living there survived the meteorological and economic storms that relentlessly pounded the coast.
Okpodu's research soon expanded to include fauna as well as flora. In partnership with sociologists at Norfolk State University, she began investigating the social determinates of health and environmental justice issues as well as implications for the intelligence community.
A firm believer in collaboration between universities as well as between disciplines, Okpodu has continued to work with colleagues at Norfolk State University, Xavier University, and now UW.
Currently, Okpodu is using genomics to study epigenetic changes in coastal grass species in response to climatic stress. She is also helping implement a survey to better understand and mitigate the challenges faced by underserved coastal communities.
In other words, she's doing what she does best: bringing together diverse groups of people and conducting impactful, interdisciplinary research.
Passion, purpose, persist
At UW, that curious young 4-H'er who wanted to name all the plants has now come full circle. The mysterious man in the National Geographic photo who prompted Okpodu's first botanical investigation was none other than George Frison, Wyoming's first state archaeologist and the founder of UW's Department of Anthropology.
In her previous role as Dean of the College of Arts and Sciences, Okpodu spoke at the naming ceremony of the George C. Frison Institute of Archaeology and Anthropology. Like Frison, Okpodu's passion helped her find a purpose.
As one of the top 10 Black biologists in the nation, Okpodu is a leading and influential researcher with decades of publications documenting her contributions to the field. Just as importantly, she has helped coach and mentor decades of students.
Although she can recite her personal motto from memory, Okpodu keeps it written on a sheet of paper, a tangible reminder of why she does what she does.
I promise myself to be a conduit by which others can get to the next level that they aspire to.