Here comes the bride! But first—here comes the bridal shop.
For many Wyomingites, a search for the perfect wedding dress might mean traveling for hours or resorting to online shopping.
Recognizing the need for alternatives, Laramie resident and entrepreneur Kati Hime set out to offer local brides a personalized shopping experience closer to home. In 2019, she and her husband, Levi Hime, opened LKH Formal, a bridal and formalwear boutique.
By her own admission, Hime tends to learn on the fly, including when it comes to merchandising and retail buying. While launching LKH Formal was a wild, exciting, and ultimately successful adventure, she had to wonder—is there a class that teaches these things?
It turns out the answer was yes. In 2022, the UW Department of Family and Consumer Sciences revised its merchandising curriculum and created a new, hands-on class focused on merchandising, retail math, assortment planning, and buying for retail stores.
Hime immediately volunteered to partner with the instructor to develop a semester-long project for the course, first offered in spring 2022.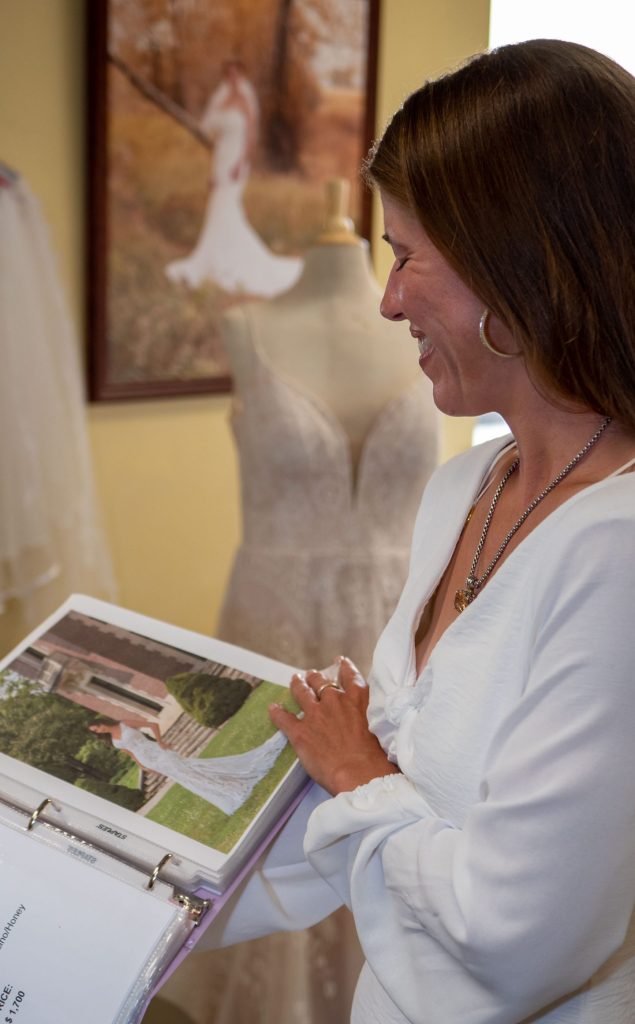 Bridal gowns, budgeting, and retail buying
The class addressed two main objectives: 1) to challenge students to develop an assortment plan on a budget and 2) to facilitate networking with a local business owner.
At the beginning of the course, Hime delivered a presentation introducing the students to LKH Formal and her needs as a retail buyer. The students were then tasked with developing an assortment plan using a portfolio of gowns Hime provided. In other words, they had to choose which gowns to order on a limited budget, create a strategic plan, and justify their decisions.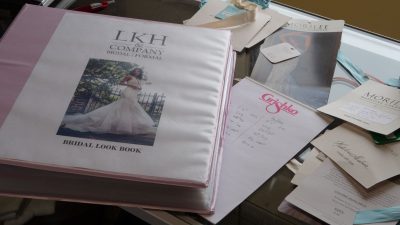 "I wanted the students to put themselves in the position of being a buyer for the boutique," explains Michelle Burton, a former adjunct faculty member who taught the first iteration of the course. "The idea was to get students thinking about how to stay under budget as well as visual merchandising and pricing strategy. This taps into critical thinking and mirrors what happens in the industry."
The semester-long assignment complemented topics addressed in lectures, prompting students to apply their learning. In addition to choosing gowns, students were asked to create a strategic plan that targeted pricing, visual merchandising, and promotional strategies. They were also required to create an obsoletion plan detailing how they'd respond if the assortment they chose did not sell well.
Nesvik's final assortment plan included a mix of lower-end and more expensive dresses. It was a challenge, she recalls, because sticking to the assigned budget meant cutting some of the wedding gowns she wanted to include but were too pricey to justify purchasing.
"Students come in and think, 'I'm going to shop for a living,'" says Erin Irick, associate professor and unit coordinator of the UW Design, Merchandising and Textiles program. "But in reality, retail buying is very math-heavy—budgeting and thinking about how many of each size and color I need, what different styles I can choose within the budget, then negotiating with vendors to get a good price."
In addition to the assortment plan assignment, the course curriculum addressed retail math, evaluation of competitors, and other retail buying considerations.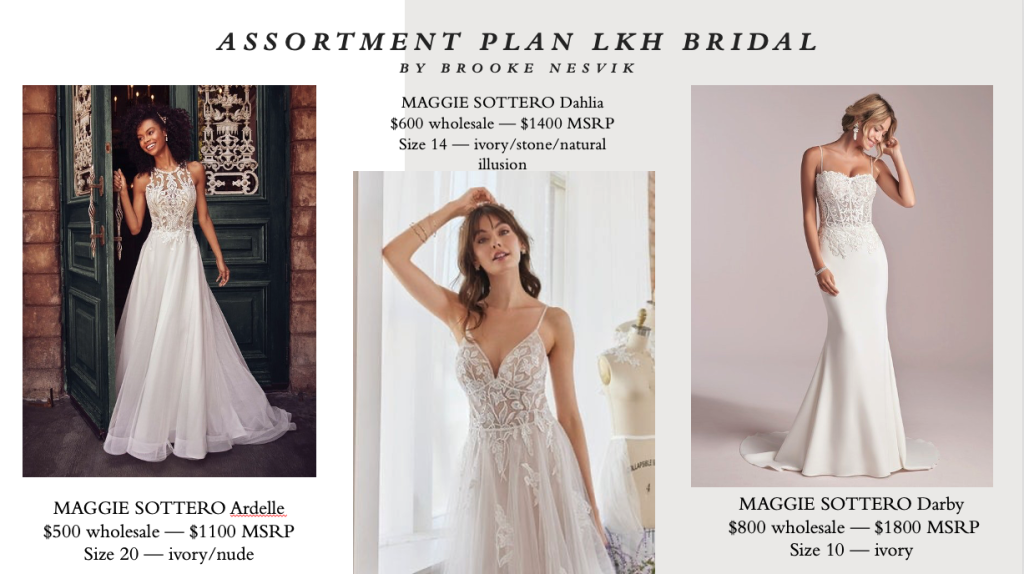 Learning translatable skills in a niche market
The purpose of the class was to understand how to purchase inventory for a retail store—but bridal shops don't function the same way most clothing retailers do. Rather than ordering a size run of T-shirts (two smalls, three mediums, two larges, for instance) or jeans, Hime chooses a style and orders a single dress.
"I decide I want to carry this style of gown and I get one sample dress in one size," she explains. "Of course, not everyone's made the same so things are too small, too big, and you have to play with it creatively for them to get an idea of what the dress looks like."
When a customer settles on a particular dress, Hime takes their measurements and orders a dress in the correct size.
"I think this project was a little more challenging than other retail buying assignments because it was for wedding dresses, and we had to really understand what we would want to bring into the store," Nesvik comments.
While the bridal boutique model is unique, the hands-on experience translates, Burton says. Whether creating an assortment plan for department store chain or local bridal shop, this type of scenario-based learning challenges students to think critically, problem solve, and anticipate how a buyer might respond to customer behavior.
"We are looking to give students a broad range of experiences," Irick explains. "Even if they don't go into bridalwear, that experience can carry over into different types of merchandise."
In tasking students with creating their own assortment plans, Burton guided them toward the realization that there's not a right or wrong answer in retail buying. Instead, it's about "how did you think about this and how did you come up with an answer or solution."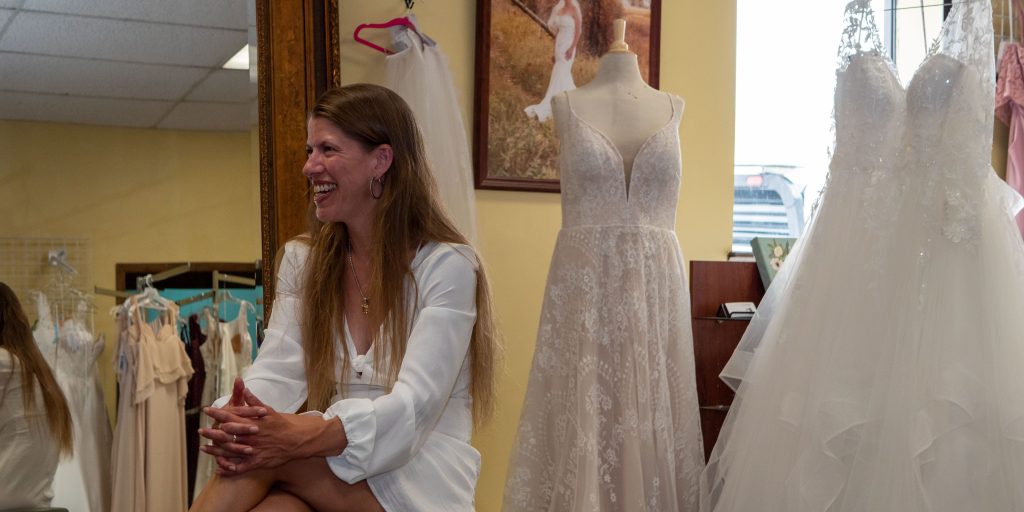 Uniquely Wyoming
A successful retail buyer doesn't shop for what they like best—they shop for what their customers want.
"Wyoming brides are not California brides," says Hime. Whether it's in the formalwear industry or something else entirely, she hopes students absorbed a key lesson: know your audience and buy accordingly.
"I hope the students are getting an understanding of how to buy for a community—not just buying for what they're interested in, but buying for what their community might be looking for," she comments.
Nesvik certainly learned that lesson.
"Wedding dresses are one of the most important things for brides and if they cannot find it at your store, they will go somewhere else," she reflects. "I really had to think about what would sell and what new brides would want to wear for their special day."
Although she is pursuing a degree in human resource management, Nesvik has a long-term goal of opening her own boutique someday. Creating an assortment plan for LKH Formal helped her envision a path toward that dream.
For more information on the UW Design, Merchandising and Textiles program, contact Irick at eirick@uwyo.edu.