In science, Bergmann's Rule is a well-known ecological pattern that has been studied for 175-plus years. In essence, the rule says that, as one moves toward higher latitudes, animals get larger, a concept long thought because the larger size of an animal helps conserve its body heat.
Jesse Alston, a former University of Wyoming doctoral student in the Program in Ecology, put that rule to the test during a long-term study he led on the size of bats in North America.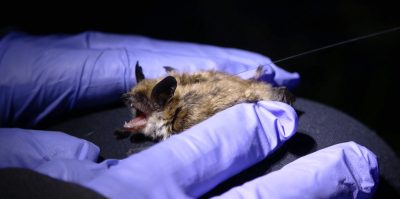 The research group tested four competing hypotheses — heat conservation, heat mortality, resource availability and starvation resistance — for the rule in North American bats. They found that bats generally follow Bergmann's Rule, according to the heat conservation hypothesis. However, year-to-year variation in bat body size is largely shaped by variation in food resource availability rather than temperature.
"In short, it's a lot quicker to gain and lose weight due to food availability than to experience evolutionary changes in body size from changes in temperature," says Alston, now an assistant professor of conservation/management of large mammals at the University of Arizona.
Alston was corresponding author of a paper titled "Environmental Drivers of Body Size in North American Bats" that appeared online Jan. 31 in Functional Ecology, a British Ecological Society journal that publishes high-impact papers that enable a mechanistic understanding of ecological patterns and processes from the organismic to the ecosystem scale. The paper is expected to appear in the journal's April or May print edition.
The paper includes 17 co-authors from 14 academic institutions and government agencies in the United States and Canada. The study represents 31,422 individuals of 20 different species of bats, collected at 1,190 locations across North America.
Data for the study was collected between 2000–2016. Alston conceived the study, analyzed the data from 2018-2022, and led the writing of the paper.
"We found support for Bergmann's Rule in bats, but it is probably weaker than traditionally envisioned," Alston explains. "Bats get larger as you move northward and as temperatures decrease, on average. But, lots of other things influence body size as well. If you don't control for those other things, it is going to be hard to detect."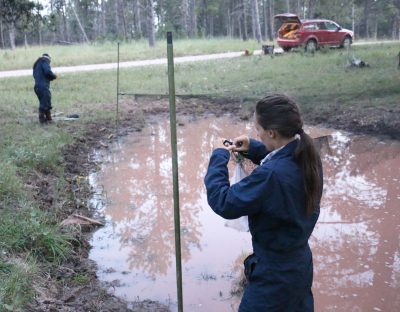 "Bats get larger as we move from south to north geographically, and they get larger through time when resources, such as insects, are abundant," adds Jacob Goheen, a professor in the UW Department of Zoology and Physiology, and Alston's Ph.D adviser at the time of the study. Goheen is senior author of the paper.
Recent research began to cast doubt on Bergmann's Rule or consider other mechanisms — even as many scientists suggested that animals should shrink as the climate gets warmer, in following with the rule as traditionally envisioned, Alston says.
Although short-lived species, such as songbirds, may be shrinking due to climate change, changes in body size for longer-lived species, such as bats, are likely to take longer to manifest and are going to be difficult to detect due to concurrent resource availability-influenced changes in body size.
"Our study suggests that they (ecologists) should account for resource availability and focus on species with fast-life histories — shorter-lived with more offspring — when they do that," Alston says.
While Alston says some ecologists had started to doubt that Bergmann's Rule existed, he points out that "Our study suggests that we should make sure our studies of Bergmann's Rule are rock solid, with very large sample sizes, before we totally write it off."
Thirty-six agencies and universities combined to fund the research.
This story was originally published on UW News.