The University of Wyoming College of Agriculture, Life Sciences and Natural Resources will kick off its second annual Ranch Management and Agricultural Leadership seminar series in Riverton Jan. 26.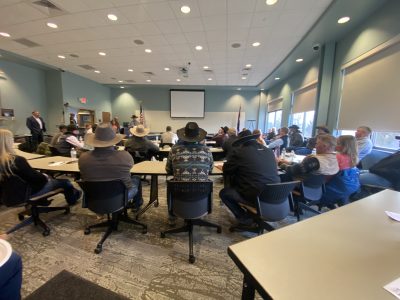 The seminar series, titled "Ranching in the West," includes four sessions held at community colleges across the state, culminating in a one-day leadership symposium at the UW campus in Laramie. All five events are open to the public as well as UW and community college students.
For those unable to attend in person, all events will be livestreamed and recorded via Zoom.
In the first session, hosted by Central Wyoming College, a panel of natural resource managers, grazing permittees ,and others will discuss ranching on public lands. Panelists include Jason Pindell of the Shoshone National Forest Service; Reg Phillips, ranch manager of the Diamond D Ranch in Dubois; John Elliott, field manager of the Lander BLM office; Sublette County rancher Joel Bousman; and UW Extension educator Barton Stam.
Topics discussed in subsequent sessions include managing the "people side" of agriculture, technology and innovation, revenue diversification, and leadership skills and application.
"I think for the students it's a cool opportunity to learn in a non-traditional way from practitioners who are out in the industry," says RMAL Associate Director Randall Violett. "In terms of community folks, it's a professional improvement opportunity, an opportunity to learn from their peers and answer questions they might have."
For community members and students not taking the course for credit, the cost is $25 per session or $100 for all five sessions. To register, visit www.uwyo.edu/uwag/rmal.
UW students who choose to enroll in the seminar series as a for-credit course are required to participate in all five sessions.
Topics, dates and locations for the 2023 seminar series are as follows.
Ranching on Public Lands: Jan. 26, Central Wyoming College – Riverton
Managing Human Resources on the Ranch: Feb. 16, Sheridan College – Sheridan
Technology and Innovation: March 2, Eastern Wyoming College – Torrington
Revenue Diversification: March 30, Northwest College – Powell
Leadership Symposium and Luncheon: April 20, University of Wyoming – Laramie
Sessions hosted by community colleges are scheduled for 4:00-7:30 p.m. Dinner is provided.
To learn more, visit www.uwyo.edu/uwag/rmal. Contact RMAL Program Coordinator Anne DeMersseman at ademerss@uwyo.edu or (307) 766-3206 with questions.