Free print copies of the new Wyoming Vegetable and Fruit Growing Guide are now available in limited supply at University of Wyoming Extension offices throughout the state. Copies can also be obtained at select conservation district offices.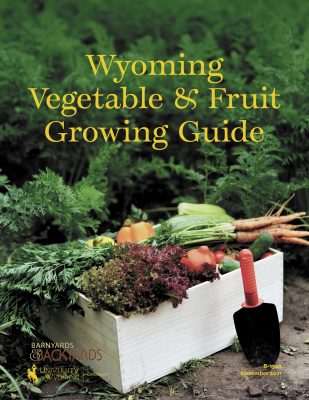 The new publication is a handy—and comprehensive—resource for all Wyoming gardeners, from seasoned growers to those who are just starting out.
"There is something for everyone in this guide," says coauthor Brian Sebade. "If you have a question or are curious about growing fruit and/or vegetables in Wyoming, this guide is there to help."
Topics range from variety selection and how to design garden spaces to information on diseases and pests that commonly afflict Wyoming gardens. The guide also advises readers on planting dates, site selection, and season extension methods.
The project was supported by a grant from the Wyoming Specialty Crop Grant Program of the Wyoming Department of Agriculture.
"The authors of this publication invested a great deal of knowledge and many hours into it, as well as the time contributed by reviewers, editors and layout artists," comments Jennifer Thompson, coordinator, compiler, editor and coauthor of the guide.
For gardeners interested in securing a hard copy—act quickly. Call your local extension or conservation office now to check availability, Thompson recommends, as there is an extremely limited supply of print copies.
Conservation district offices that received copies of the guide include Hot Springs Conservation District, Laramie County Conservation District, Lower Wind River Conservation District, Medicine Bow Conservation District, Meeteetse Conservation District, Natrona County Conservation District, Platte County Conservation District, Popo Agie Conservation District, Powder River Conservation District, Saratoga-Encampment-Rawlins Conservation District, Shoshone Conservation District, South Big Horn Conservation District, Sublette County Conservation District, Sweetwater County Conservation District, Washakie County Conservation District, and Weston County Natural Resource District.
Free downloadable copies of the guide are available at bit.ly/WY-fruit-veg.
Additional online resources on gardening in Wyoming can be found at bit.ly/BBWYgardening. For topics specific to growing fruit, visit bit.ly/BBfruitgrowing.
Cover photo courtesy of Velychko, shutterstock.com.