On Wednesday, August 10, the University of Wyoming Sheridan Research and Extension Center, agency partners, and local producers will host a field day focused on soil health, cover crops and grazing on irrigated forages.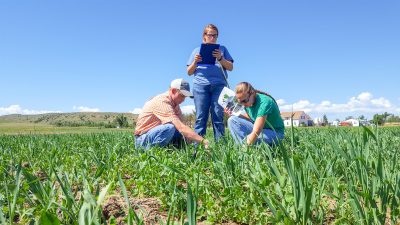 Participants will meet at the Sheridan Research and Extension Center, located at 663 Wyarno Road. The center is operated by the Wyoming Agricultural Experiment Station, the research arm of the University of Wyoming College of Agriculture, Life Sciences and Natural Resources.
The Working Lands program begins at 7:30 a.m. and includes visits to two local operations, the Little Horn Ranch and Koltiska Cattle and Hay. Transportation between sites is available and all ages are welcome to attend.
Participants must register by August 1. A $10 entry fee will be collected on the day of the event. Those who are unable to attend the full program are welcome to join for one or more of the sessions but are still asked to RSVP.
Partners involved in the event include the UW Extension; UW College of Agriculture, Life Sciences and Natural Resources; Sheridan County Conservation District; Sheridan County Farm Bureau Federation; Natural Resources Conservation Service; Young Producers Assembly; Millborn Seeds; Sheridan Community Land Trust; Plank Stewardship Initiative; North 40 Ag; and Powder River Basin Resource Council.
Other partners include the White Ranch, Broken Arrow Ranch and Double Rafter Ranch.
UW extension educator Caitlin Youngquist will deliver the opening remarks. "Soil and regenerative agriculture are very popular concepts right now. My intention is to help explain some of the basic science, and provide some context for folks," she says.
With rising hay prices and drought conditions, the event is timely, adds fellow extension educator Alejandro Orozco-Lopez. The field day is an opportunity for producers consider, "Okay, this is working here. What will fit best for my operation, my goals?" he explains.
The program will include three site visits, starting at the Little Horn Ranch with a discussion on managed grazing on irrigated forage and stockpiled winter forage.
Lunch will be served at the Sheridan Research and Extension Center at 12:15. Partner presentations and door prize drawings will take place during the meal.
After lunch, field visits will resume. On a site at the research and extension center, assistant farm manager Tyler Jones will present a tillage method study and dryland cover crop species evaluation.
The final site visit of the day, focused on dryland soil regeneration, will be held at Koltiska Cattle and Hay.
The program concludes at 4:00 p.m. at the Sheridan Research and Extension Center.
To learn more about the event, visit www.sccdwy.org. The online registration form can be found at bit.ly/working-lands-registration-sccd-2022.