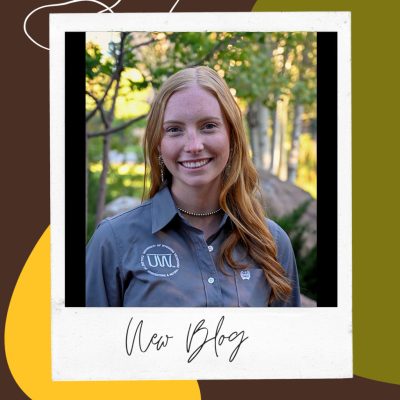 Growing up and living in rural Wyoming, I experience the amazing diversity of the production agriculture that surrounds me. We start the year waiting for the first calf or lamb to be born. We ready the field equipment. Spring brings planting and seeding of corn, dry beans, sunflowers, sugar beets, and barley. We brand. Our FFA and 4-H kids get busy with projects. I will always love the smell of an alfalfa field that has been freshly cut. Harvest crews come through at the end of the summer to harvest winter wheat. Our farmers and ranchers work 365 days a year. We end the summer with both the county and state fair. We harvest more crops. We wean calves and lambs to ship. We plan for the next season. Agriculture does not hit pause! It always hits repeat aside from the unpredictable aspects of those industries. The College of Agriculture and Natural Resources is seeking more students, alumni, and parents to join our AGvocacy!
When I began my freshman year at the University of Wyoming, the importance of becoming an AGvocate became even more clear. Every single person on this progressive planet actively participates in the food and fiber industry. Food and clothing are necessary for survival; most people just do not know where it all starts. I have learned that most consumers believe that agriculture begins and ends at the grocery store, local shopping mall, or Amazon. Some consumers do wonder how their food arrives at the store but fail to educate themselves on the agriculture production line. Agricultural education and advocacy can be very rewarding. You might help a single shopper select a better steak or produce. You may speak at a meeting and explain the difference between organic versus conventional farming. You may end up in a conversation with a group trying to remove agriculture as a unit without comprehending that agriculture surrounds every person today.
At the College of Agriculture and Natural Resources, we are seeking prospective students interested in becoming AGvocates for everything this world needs. Do you like science? How about considering an occupation in soil health, weed science, biochemistry, biology, agronomy, etc. Do you have the heart of a teacher? We need ag teachers as well as animal and human nutritionists. Is engineering your thing? How about food processing, water systems, innovative machinery, etc. Do you like technology? Google 'farming by the foot'. You will love it! Do you enjoy animals? The world needs more veterinarians, marine and fishery scientists, range managers, etc. Enjoy gardening? Try floriculture, horticulture, seed development, forestry, turf science, etc. Want to become a lawyer? Start out here! We need people who will lobby and protect all aspects of our agricultural industry while providing industry-advancing changes.
The food and fiber industries are seeking those who want to make headway in the industry. The world needs more AGvocates!