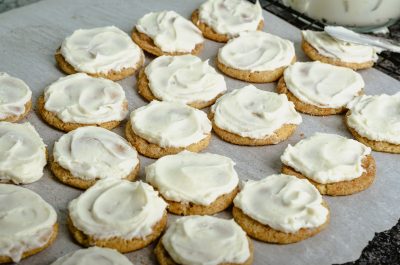 Prep time: 40 minutes
Chilling time: 45 minutes
Baking time: 12 minutes per pan
Cooling time: 30 minutes
Total time: 2 hours
Servings: 20
Parchment paper or non‑stick baking mats
1 cup (226 g) unsalted butter, melted and cooled
2¾ cups (330 g) all‑purpose flour (spoon and level to measure)
1½ teaspoons cream of tartar
1 teaspoon baking soda
1 teaspoon cornstarch
½ teaspoon ground cinnamon
½ teaspoon salt
1 cup (198 g) sugar
1/3 cup (71 g) light brown sugar, packed
1 large egg, room temperature
2 teaspoons vanilla extract
Rolling Sugar
½ cup (99 g) sugar
1½ teaspoons ground cinnamon
1 teaspoon ground ginger
1 teaspoon ground cardamom
½ teaspoon ground allspice
⅛ teaspoon ground cloves
Frosting
½ cup (113 g) unsalted butter,  room temperature
2½ cups (284 g) powdered sugar
3 tablespoons cream (preferred) or milk
Seeds scraped from ½ of a split vanilla bean or 1½ teaspoons vanilla bean paste or extract
⅛ teaspoon salt
In a large bowl, whisk together the flour, cream of tartar, baking soda, cornstarch, cinnamon, and salt; set aside.
In a large bowl, using an electric mixer, beat the melted butter, sugar, and brown sugar until light and fluffy, about 5 minutes. Scrape sides of the bowl as needed.
Mix in the egg, then the vanilla until combined.
Reduce mixer speed to low, slowly add the flour mixture and mix until just combined. The dough will be very thick and heavy, yet slightly crumbly.
Cover the dough tightly with plastic wrap and chill for at least 45 minutes and up to 2 days. (If chilling for longer than a few hours, let the cookie dough sit at room temperature for at least 30 minutes before using because it will be quite hard.)
Preheat the oven to 350°F. Line 2 baking sheets with parchment paper or non‑stick baking mats. Set aside.
In a small bowl, mix the rolling sugar ingredients. With a medium cookie scoop (#40 or #50/about 1½ tablespoons), portion out the cookie dough. Shape dough into balls and roll in sugar. Place 2 inches apart on the baking sheet.
Bake the cookies for 8–12 minutes. The cookies will look very puffy, soft, and under‑baked.
Remove from the oven and let cool on the baking sheet for 2–5 minutes before transferring to a wire rack to completely cool.
Prepare frosting: With an electric mixer, beat the butter on medium speed until creamy for 2 minutes. Add powdered sugar, cream, and vanilla with the mixer running on low. Increase to high speed and beat for 3 minutes. If frosting is too thick, add more cream 1 tablespoon at a time. Taste the frosting and add ⅛ teaspoon salt if it is too sweet.
Frost cooled cookies. There may be leftover frosting, depending on how much is used on each cookie.
Place cookies in layers separated by waxed or parchment paper in an airtight container.
If desired, freeze unfrosted cookies for longer storage. Thaw cookies, then frost and decorate.