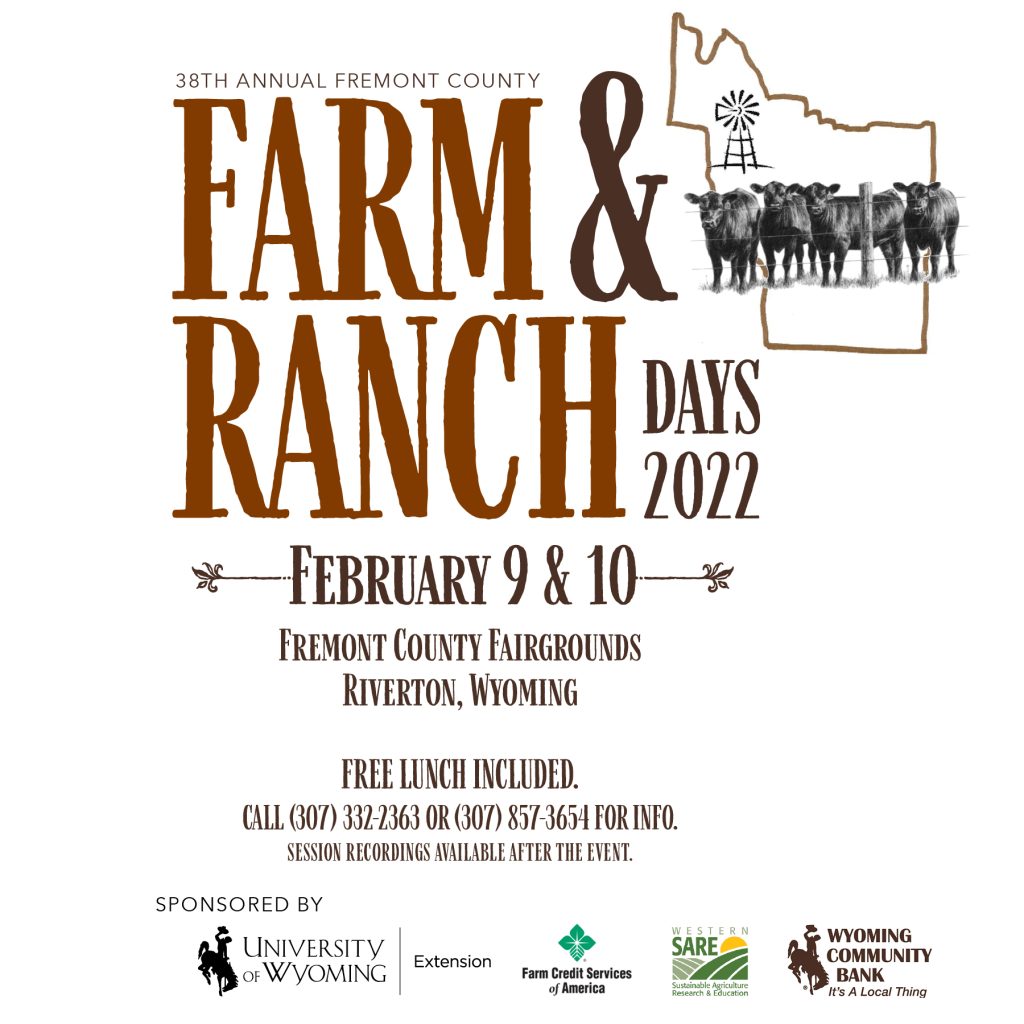 Twenty-five different educational presentations — most of them new and on topics ranging from pasture seeding techniques to direct marketing of meat — will be part of Fremont County Farm and Ranch Days Wednesday, Feb. 9, and Thursday, Feb. 10.
The event is sponsored, in part, by University of Wyoming Extension and takes place at the Fremont County Fairgrounds in Riverton. One event, the Ranch Management and Agriculture Leadership Seminar, will take place at Central Wyoming College Feb. 10. Visit https://www.uwyo.edu/uwag/rmal/ for more information and to register for this seminar.
"The Fremont County Farm and Ranch Days tradition has been happening for 38 years now. This free annual event remains one of the best opportunities in Wyoming for farmers, ranchers and all people involved in agriculture at any level to discuss and learn about issues facing the industry," says Chance Marshall, UW Extension educator in Fremont County. "The two-day event has a trade show of local vendors and 25 educational presentations. There's something that is sure to interest anyone on the agenda, and everyone is invited."
During the event, Wyoming first lady Jennie Gordon will provide the keynote speech about the Wyoming Hunger Initiative from 1:45-2:45 p.m. Feb. 9. Scott George, a member of the Wyoming Beef Council and former president of the National Cattlemen's Beef Association, is the keynote speaker Feb. 10. His presentation, titled "American Beef Trade and the Beef Checkoff," is scheduled 1:45-2:45 p.m.
Session topics include horn fly management; benefits of equine massage and adjustment; being prepared for calving season; beekeeping in Fremont County; a private pesticide class; negotiation in agriculture; alfalfa weevil control considerations; and understanding mineral requirements for grazing cattle.
A free lunch will be provided each day from 1-1:45 p.m. by the Fremont County Cattlewomen.
For more information, call (307) 332-2363 or (307) 857-3654.
Download the schedule here farm-and-ranch-days-program-2022.