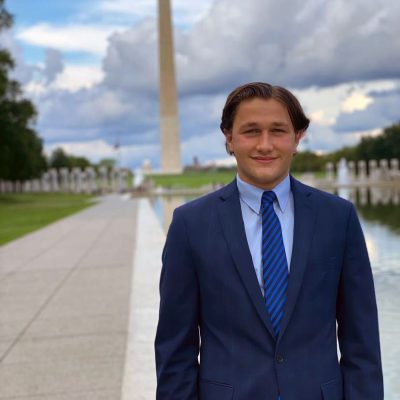 This Green River standout economics student may be attending Michigan State University, but he's also helping his home state discern vaccine hesitancy among Wyoming residents.
Gregory Marchal was named MSU's 17th Truman Scholar. He is one of 62 students from 51 U.S. colleges and universities selected as scholars. Marchal is also a research assistant on University of Wyoming agricultural economist Mariah Ehmke's team studying vaccine hesitancy.
Her group in the College of Agriculture and Natural Resources is analyzing the links among behavioral economic measures such as a propensity to cooperate, risk preferences and fairness expectations and parents' intention to vaccinate or the vaccination of their child, she said.
Ehmke said Marchal has been interested in vaccine hesitancy since he debated it at Green River High School. Last summer as an intern at the Council of Economic Advisers he expressed an interest in getting involved in the research.
"I had too much data and not enough time, so I interviewed him, and he begin analyzing the data on parents' risk aversion and immunization hesitancy," said Ehmke, an associate professor in the Department of Agricultural and Applied Economics.
A brother, Alexander, had been Ehmke's research assistant while an undergraduate at UW. He is now pursuing a Ph.D. at Purdue, and he and Ehmke are also continuing research together.
"Gregory has a ravenous appetite for knowledge and will go above and beyond to meet work expectations," said Ehmke. "Both he and Alex have worked 12-hour days in Hazmat suits in labs in the Green River mines," she said. "Asking them to spend a little extra time running an econometric model seems to be a small ask compared to the work they did there. Gregory brings energy and enthusiasm to his work. He is also emotionally intelligent, humble and bright."
Marchal used the project in his econometrics class at MSU and as his senior thesis. He has received a fellowship from MSU to continue working with Ehmke. She said she hopes to expand the work to encompass COVID-19 vaccine hesitancy.
Marchal is attending MSU as a STARR scholar. He is an Honors College junior majoring in economics with a minor in social science quantitative data analytics in the College of Social Science and mathematics from the College of Natural Sciences. Marchal said he also has a passion for creating equitable monetary policy and will be interning at the Federal Reserve Board of Governors this summer.
STARR Charitable Foundation Scholarships provide a full-ride scholarship opportunity to high school seniors in Wyoming and in the Upper Peninsula of Michigan to attend UW or Michigan State University. Gregory's twin brother, Patrick, is also a STARR scholar at MSU.