Community. There is so much meaning and potential for growth, progress, and mutual support in that word. Throughout my time here at the University of Wyoming, I have been continuously supported by the College of Ag community, the border campus community as well as the general Laramie community. I would not be where I am today without the encouragement, help and love that all of these different groups have shown me. This is why I've dedicated this past year to giving back and making a difference. I am currently in the process of getting an affordable veterinary care program up and running in Albany county. I am super excited about its potential so I just thought I would take this opportunity to share what it's about with you all!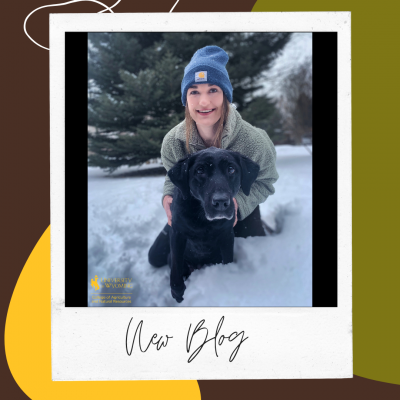 I've been volunteering at the Downtown Clinic (DTC) here in Laramie for the past three years. The DTC provides free primary healthcare opportunities for over 500 low-income, uninsured residents of Albany County and one day I was talking with the director of the clinic, Pete Gosar and I asked him about how many of our clients he thought were pet owners. He estimated that over half of the clients own pets. So my next thought was, 'well if these individuals are struggling to receive adequate health care for themselves, their pets are most likely also in need.' My hope and plan is to partner the DTC with local veterinary clinics, the Wyoming State Vet Lab (WSVL), and the Wyoming Pre-Veterinary Club to offer basic veterinary care for a free/reduced cost.
The COVID-19 pandemic has slowed some of my progress but I have met with the Laramie Animal Shelter and LAWS and this allowed me to determine that no such program was already in place in the Laramie area. WSVL has agreed to diagnostic support for the program and specifics will depend on the needs and demand for services. I am currently in the process of communicating with a couple of veterinary clinics and several of the details and logistics still need to be figured out but I hope that we will be able to offer things like annual physical exams, vaccines, and other basic veterinary care options. For some of these animals, it may be the first and only time they are seen by a vet so not only will it help the animals, but it will also be beneficial from a public health point of view in terms of rabies vaccinations and such.
Another exciting part of this partnership is the connection with the Wyoming Pre-Veterinary Club. I plan to have this program become integrated with the club to ensure the longevity and sustainability of this partnership. This RSO is full of motivated and interested students that would be available to volunteer to make these low-cost clinics run smoothly. Not only would this reduce the amount of staff needed to run the clinics, but it would allow pre-veterinary students to get some hands-on experience, volunteer hours, and just generally give back to the community.
I am so grateful for the opportunity to spearhead this program because I am able to combine the things I love the most: helping people and their animals. This has already been such an amazing experience and I can't wait to see all of these different entities come together to support low-income pet owners in a 🐾 PAWtnership 🐾