The 37th annual Fremont County Farm and Ranch Days in Riverton is Wednesday-Thursday, Feb. 3-4, offering more than 20 individual sessions and two lunch programs.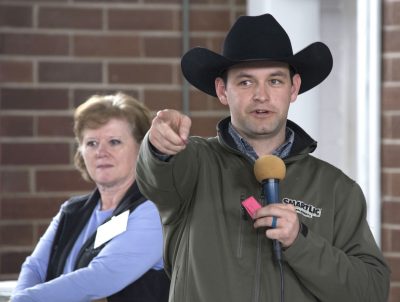 Farm and ranch days at the fairgrounds will be run mostly like normal, but there will be a few changes, said Chance Marshall, University of Wyoming Extension educator in Fremont County.
"All sessions will be available in person," he said. "We plan to also offer all sessions live online, and all sessions will be recorded and made available to folks who will not be able to attend due to COVID. Classes will take place in different buildings around the fairgrounds to socially distance as much as possible."
He said those who would like to view sessions via Zoom can contact either the Lander extension office at 307-332-2363 or the Riverton office at 307-857-3654. They will be sent the Zoom link and passcode.
Each session will have a moderator who will monitor Zoom, relay questions and introduce speakers.
Sessions both days start at 9 a.m. Private pesticide applicator classes are 9 a.m.-12:45 p.m. Thursday. Free lunches both days are paid by sponsors and will be served by the Fremont County Cattlewomen. The lunches begin later than in the past, after the last morning session ending at 12:45 p.m. Lunch seating will likely be affected by COVID-19 restrictions, said Marshall.
Wyoming rancher and agricultural advocate Peggy DesEnfants is the Wednesday lunch keynote speaker presenting "Finding the good in everything you do in life."
Kelsey Christiansen, owner of the 307 Meat Company in Laramie, is Thursday's speaker presenting "307 Meat Company and Marketing Meat."
"We still hope to have a full trade show in the Fremont Center like normal and expect to have 40-50 booths," said Marshall. "This will be the 37th year of the event. It has always been and will continue to be totally free, and everyone is welcome to participate."