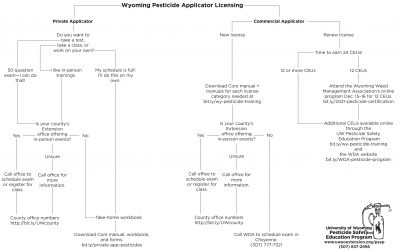 Wyoming private and commercial pesticide applicator certification and recertification has changed with the effects of COVID-19.
Private applicators have multiple options to certify (or re-recertify). They can attend an in-person meeting, complete the take-home workbook or compete the 50-question exam, said Jeff Edwards, University of Wyoming Extension pesticide safety education program coordinator.
He advised contacting local UW Extension offices for the availability of each option.
"Since COVID-19 response is driven by county-based health departments, your county UW Extension office may not offer all methods for certification," he said.
County office telephone numbers can be found using this link bit.ly/UWcounty.
Commercial applicators seeking CEUs for recertification can gain 12 CEUs by participating in the Wyoming Weed Management Association online program Dec. 15-16.  Pre-registration is required. Program and registration information can be found at bit.ly/2021-pesticide-certification.
Recertification is being offered a month early so those needing the required 24 CEUs will have adequate time to complete other online courses prior to the expiration of their licenses in January, said Edwards.
Additional CEUs approved by the Wyoming Department of Agriculture are available online and can be found through the UW Pesticide Safety Education Program (PSEP) website bit.ly/wy-pesticide-training or the Wyoming Department of Agriculture website bit.ly/WDA-pesticide-program.
Commercial applicators seeking a new license also have options for certification, said Edwards:
Copies of most manuals are available for free as electronic downloads (there are a couple of exceptions) from the UW PSEP website bit.ly/wy-pesticide-training. Read the CORE and the specific manuals for the categories for which you are seeking licensure, said Edwards.
Examinations are proctored via UW Extension county offices. Contact your local office to see if they are testing and make an appointment. County office contact information is at bit.ly/UWcounty. You can also contact the Wyoming Department of Agriculture (WDA) and arrange to take an examination in Cheyenne. Call 307-777-7321.
Temporary license: COVID-19 exception – This license is only valid for the year in which it is issued, in this case 2021. Study the manuals as in option 1, said Edwards. Submit all paperwork to the Wyoming Department of Agriculture. Additional details to complete this licensing option are available at bit.ly/wyo-temp-applicators.
"There are no plans to offer an in-person program," said Edwards. "We are, however, exploring the possibility of something online."
For more information, contact Edwards (jedward4@uwyo.edu) or Lori Schafer (lschafe2@uwyo.edu) with the PSEP; or Wes Brown at the WDA (wes.brown@wyo,gov).