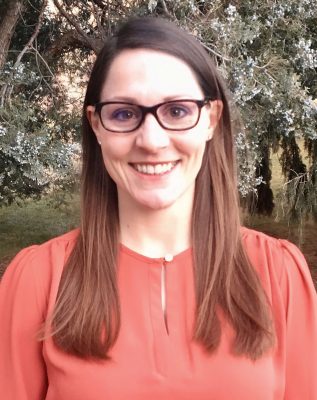 Family and consumer sciences Assistant Professor Alyssa McElwain is among four recipients of the 2020-21 Faculty Engagement Fellowship awards.
McElwain received the Office of Engagement and Outreach's (OEO) Malcolm Wallop Faculty Engagement Fellowship. The award is funded through the Malcolm Wallop Civic Engagement Program that focuses on work connected to civic engagement through discussions and work on issues of significant public interest.
McElwain will continue her work that focuses on healthy relationship education for youth, while expanding to engage more students with workshops, curriculum and online programming. She will collaborate with Upward Bound on her project.
The fellowship competition attracted proposals from a broad range of disciplines across UW, from people working in public engagement, engaged teaching, engaged scholarship and outreach focused on community impacts.
The other three UW recipients are Nga Nguyen, a Department of Electrical and Computer Engineering assistant professor; Tiger Robison, a music education assistant professor; and Reshmi Singh, a social and administrative pharmacy associate professor.
The awards are for faculty members working on projects during the 2020-21 academic year. Fellows receive a stipend of $10,000 and up to $2,000 to support outreach programs and travel expenses. Recipients will work with OEO Director Jean Garrison and members of the UW Engagement Council to develop their projects and organize at least one significant outreach program series both on and off campus. Projects focus on faculty development or enhancing engagement and outreach in their respective fields of study.
McElwain's project, titled "Relationship Education and Leadership: Promoting Healthy Relationships for Wyoming Youth," expands on her Relationship Education and Leadership program. Both projects focus on healthy relationships.
Her fellowship project will expand the development and implementation of online programming content for Wyoming youth on preventing dating violence and promoting healthy relationships. A peer-education model to offer learning and professional development opportunities for undergraduate students in the social sciences also is part of the project.
The project will deliver new evidence-based relationship education curriculum for online delivery and train undergraduate students to deliver the in-person and online relationship education curriculum. McElwain will assist trained undergraduate students in delivering a series and one-time educational workshops to UW and high school students in Laramie on healthy and safe relationships.
She has collaborated with Upward Bound at Laramie High School and the UW Wellness Program to expand to a greater number of students in the state.
A partnership with UW Athletics has led to a larger number of student-athletes attending the leadership development and Relationship Smarts programs. This year, delivery for the programs will be transferred online through WyoLearn, allowing students to work through the material in a free, self-paced environment, McElwain says.
"Dr. McElwain's research on healthy relationships with youth and the involvement of her students in this work truly embody the importance of faculty partnering with students," said Garrison  "This OEO Malcolm Wallop Engagement Fellowship will build a sustainable program that can be made available to the state as a whole."