Anyone with a water right in the Wyoming portion of the Colorado River Basin (Upper Green River and its tributaries and the Little Snake River) should be aware of discussions taking place about future water management in Wyoming and the region.
The Wyoming State Engineer's Office (SEO), with assistance from the University of Wyoming Extension, is investigating the feasibility of an Upper Basin demand management (DM) program in Wyoming.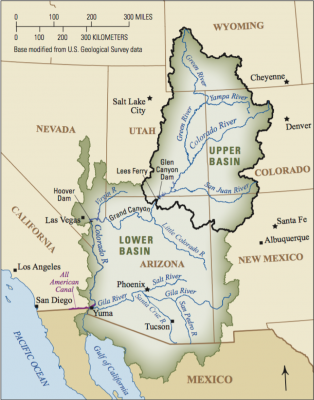 The Colorado River Basin has been experiencing persistently dry hydrology for the past two decades. If such dry conditions continue, under terms of the 1922 Colorado River Compact, the upper-division states of Colorado, New Mexico, Utah, and Wyoming may be required to restrict consumptive use of water in their portions of the Colorado River Basin.
Such an action would be termed a curtailment and would be administered by each state under their existing laws. Cheyenne would also be affected by curtailment because it receives water from the Colorado River Basin through a trans-basin diversion.
The DM program the SEO's office is considering would be a proactive way to help protect Wyoming water users from curtailment. The purpose would be to support a voluntary, compensated, and temporary reduction of consumptive uses in the Upper Basin or augment supplies with imported water, if needed in times of drought, to help assure continued compliance with the 1922 Compact without restricting existing water rights.
Any DM program would be a state-based effort implemented under state law; however, all of the upper-division states must agree on the details of a DM program before it could be implemented.
The DM program is one element of the drought contingency plans approved this past spring by the seven Colorado River Basin states and Department of Interior.
The SEO is providing information to and seeking input from water users about the issues that surround both a curtailment and a DM program in Wyoming.
Particularly, input is sought about implementing a DM program in Wyoming, if feasible, and what the program might look like. The SEO and UW Extension hosted a series of public meetings throughout the basin last November. Focus groups to discuss specific issues are planned for later this spring.
More information about the public stakeholder process is available at the project website bit.ly/wyodemandmanagement. A link to this website is also available from the News and Press Releases portion of the Wyoming SEO website (https://sites.google.com/a/wyo.gov/seo).
Ginger Paige is the water resource specialist in the Department of Ecosystem Science and Management at the University of Wyoming. She can be reached at 307-766-2200 or at gpaige@uwyo.edu. Anne MacKinnon is an adjunct faculty member at the Haub School for the Environment and Natural Resources. She can be reached at amack@vcn.com. Kristi Hansen is the water resource economics specialist in the Department of Agricultural and Applied Economics. She can be reached at 307-766-3598 or at kristi.hansen@uwyo.edu.