Information on a variety of topics related to production agriculture, diversifying an operation and marketing and promoting agriculture will be offered at the Branching Out program in Wheatland.
The workshop is Friday-Saturday, April 26-27, at Platte Valley State Bank, 200, 16th St.
"The program provides information on a wide variety of topics that can be considered when looking to diversify an operation, start something new in your backyard or garden," said LeRoy Jons, University of Wyoming Extension horticulture educator.
Sessions include:
"UW Apple Trials," Chris Hilgert.
"Scaling-Out & Reining it in: Opportunities in Livestock and Grains/Pulse Crop Production," Dan Waldvogle of Rocky Mountain Farmers Union.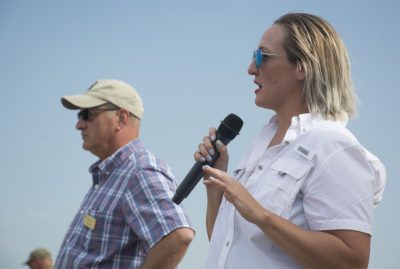 "Food Safety Basics to Grow Your Business," Martha Sullins of Colorado State University.
"Farm to Plate, Putting it Together," panel discussion with Brook Brockman, Leann Miller and Meghan Squires.
"Growing Fresh in NE," Painter Produce.
"Promoting Agriculture and Agriculture Diversity," Cole Ehmke, UW Extension and Tim McAteer, VISTA volunteer.
"Growing Lavender, Trials & Mistakes," Mike Heath, Laramie County Master Gardener.
"Resource Providers," panel discussion with Ted Craig, Wyoming Department of Agriculture, Pam Metz, U.S. Department of Agriculture, Farm Service Agency, Sydney Burke, National Resources Conservation Service, and Scott Sutherland, Rural Development.
"Introduction to Biochar," Rowdy Yeatts, High Plains Biochar.
"Hops Trial," Brian Lee, UW Extension.
"Marketing with Social Media," Tanya Engel, UW Extension Communications and Technology.
"First/Ancient Grains," Carrie Eberle, UW Extension.
"Growing Specialty Crop Cut Flowers & More," Sarah Cowan, Platte County Master Gardener and business owner.
"Intro to Hemp," John Connett, UW Extension specialist.
"Identification of Historic Homestead Apple Orchards Cultivars in Wyoming," Jon Magby.
Cost is $50 for both days and $25 for one day. Registration deadline is April 19. To register go to http://bit.ly/Branching_Out. Space is limited to 60.
For more information contact the UW Extension Platte County office at 307-322-3667.