A free webinar series through the University of Wyoming Extension focusing on gardening and growing food in a backyard begins April 10 and ends May 15.
Backyard Gardening in Wyoming is noon to 1 p.m. each Wednesday. Horticulture and gardening experts from University of Wyoming Extension will present the various topics.
"Gardening in Wyoming is always challenging, particularly for those who move to Wyoming from other areas where it is easy to grow a garden," said Chis Hilgert, UW Extension horticulture specialist and state Master Gardener coordinator.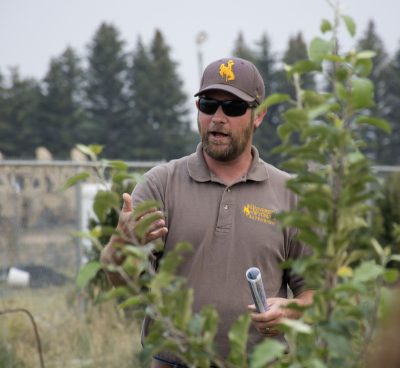 The webinars will be recorded and used to develop an online class series, he said.
The schedule is:
April 10 – "Extending the Growing Season," Catherine Wissner, Laramie County UW Extension horticulturist.
April 17 – "Build your Garden's Soil," Caitlin Youngquist, UW Extension agriculture and horticulture educator. Youngquist will discuss how to improve soils to boost plant growth and productivity.
April 24 – "Vegetable Gardening," Wissner. She will explain what to grow and how to grow it successfully.
May 1 – "Growing Small Fruits and Berries," Hilgert. He will discuss strawberry and raspberry varieties suitable for Wyoming and production practices for reliable harvests.
May 8 – "Growing Fruit Trees," Hilgert. He will discuss hardy varieties of apples, pears, cherries and peaches grown in Wyoming, as well as pruning techniques and pest management strategies that lead to greater harvests.
May 15 – "Growing Herbs," Karen Panter, UW Extension horticulture specialist. Panter will discuss growing herbs in containers outdoors and indoors.
The webinars can be viewed at https://uwyo.zoom.us/my/uwyo.mastergardener.
"Our goal is to help gardeners succeed, and we hope that making this resource available online will encourage gardeners to try some new things and hopefully have a rewarding experience along the way," Hilgert said.