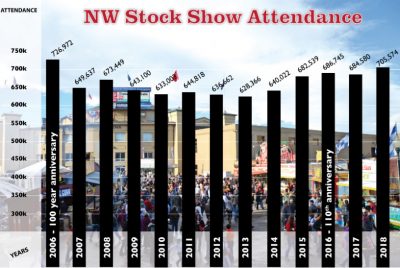 Teams and individual contestants from the College of Agriculture and Natural Resources at the University of Wyoming will test their skills at the Denver National Western Stock Show (NWSS) now through Sunday, Jan. 27.
Established in 1906, the NWSS is the leading livestock, rodeo and horse show in the nation. A 16-day event of western heritage and entertainment attracts over 650,000 visitors every year from Colorado, Nebraska, Wyoming and surrounding areas.
The UW collegiate livestock judging team will compete Thursday, Jan. 17, starting at 8 a.m. in the Denver Coliseum. The UW wool judging team will also be competing at 9 a.m. that day at the Adams County Fairgrounds. The UW meats judging team will contend in the meats contest at the JBS facilities in Greeley Jan. 20 at 8 a.m.
UW will have a presence at every rodeo in the coliseum as part of the university's partnership with NWSS. The pro-rodeo Wednesday, Jan. 23, is UW night, and spectators are encouraged to wear their brown and gold.
A few UW rodeo team members will compete individually throughout the stock show. Tyler Corrington, the UW rodeo team rough stock coach, will be saddle bronc riding on Jan. 18 and 19. Jake Fulton, a senior form Valentine, Neb., will be steer wrestling in the performance round on Jan. 21 and in the slack on Jan. 22.
Jase Staudt, a junior from Nathrop, Colo., is team roping and tie down roping Jan. 18 and JC Flake, a sophomore from Mesa, Ariz., will also be team roping Jan. 23. Dusty Taylor, a junior from Craig, Colo., will be competing Jan. 21 and Jan. 22 in the team roping contest.
"It's one of the biggest rodeos of the year and a good way to set up the entire 2019 year by getting off to a good start," Taylor said. "UW rodeo has provided me with the right set of tools such as practice time and the right kind of mentality I feel I need to be competitive at that kind of level."
Six College of Agriculture and Natural Resources interns will represent the university and talk to potential students at UW's booth in the expo hall.
Morea Shipley, from Lingle, a junior in agricultural communications, is one of the students participating.
"I am excited to be at the National Western Stock Show to meet new people and build my personal network while sharing information about the UW college of ag," Shipley said. "I love going to school at UW and want to spread the word about all that this college has to offer."
Bree Thompson, Brismark, N.D., a junior in agriculture business and international agriculture, said she is excited to share the experiences the university has offered her, like internships, study abroad and club involvement.
UW is sponsoring this year's commercial cattle female show and sale Wednesday, Jan. 23.
For more information on event times and locations, visit https://nationalwestern.com/schedule/.